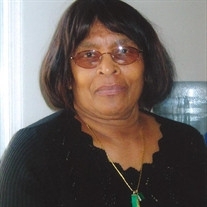 Ella Lee Winters, age 84 of La Plata, Maryland, died March 6, 2018 at the University of Maryland Charles Regional Medical Center in La Plata, Maryland. Ella was a homemaker and a life-time member of Sacred Heart Catholic Church in La Plata. She enjoyed cooking, word searches, watching cooking shows, baseball, soaps on the TV, and Wheel of Fortune. She most enjoyed being with her family and friends.

She was the daughter of Sherman and Rose Young Watts. In addition to her parents, she is also predeceased by her son, Joseph M. Winters, Jr. and George Winters. She is survived by her husband, Joseph Matthews Winters, Sr.; her sons, Francis I. Winters (Cynthia), Robert M. Winters (Sephra), Larry D. Winters; her daughters, Linda Adams and Yvonne D. Mock (Kenneth); her brother, William S. Watts (Carol); her sister, Alice Briscoe. She is also survived by 10 grandchildren, 10 great-grandchildren, nine great-great grandchildren, and two great-great-great grandchildren.

Friends received on Monday, March 12, 2018 from 9AM until time of Mass of Christian Burial at 10AM at Sacred Heart Catholic Church, 201 St. Mary's Avenue, La Plata, Maryland 20646. Interment to follow in the church cemetery. Arrangements by Raymond Funeral Service.