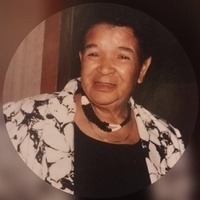 Susan Ann (Adams) Williams, 86 of (Pisgah) Indian Head, Maryland. On the morning of March 3, 2018, Susan Ann Williams, was called to eternal rest. Susan died peacefully in her home on Stuckey Road in Pisgah, Maryland. Susan was born in Malcolm, Maryland on March 14, 1931 to the late Alexander Adams and Mary Ruth (Thompson) Adams.

Susan was educated in the Charles County Public School System. After school, marriage and children, Susan went to work as a cook and what a cook she was. She quickly became well known for her cooking throughout Charles County. Some of the Restaurants she cooked for like, Gateway Inn, Port Tobacco Marina and Sweden Point Marina you might not remember but those who do, will never forget that delicious food she prepared. Susan also cooked at Chance's Bar which she owned and operated from the mid-80's to the early 90's. Those pork chop dinners were beyond compare and don't even mention fish. On fish fry day, those dinners would be swimming out the door from 11:00 in the morning until 12:00 at night and people were still asking for more. People will never forget the food and the fun at Chance's Bar. Susan also worked at Lee's Market for a short time.

Susan was a devoted Catholic who tried never to miss 7:30am Mass on Sunday. If she couldn't be at church a ½ hour early she would be upset because 15 minutes early was not quite good enough. And, if she couldn't go to 7:30am Mass, she wouldn't go at all. Oh, how she loved the Lord. Susan also loved her family, the gatherings and she loved cooking those Sunday and holiday dinners. Susan enjoyed traveling, especially with her longtime friend Cleo and with the family. The family started an annual trip to Atlantic City 30 years ago and the number of participants grew each year. Susan loved playing the slots until you couldn't put coins in anymore, then it wasn't as much fun anymore but she would go to the casinos anyway to be with the family. Susan has traveled with family over the years to Niagara Falls, Las Vegas, Atlantic City, Tennessee, Virginia Beach, North Carolina and various other places. Susan enjoyed music, it was just this past November she got up and pushed her walker aside to show us the "right way" to do the twist. Susan also enjoyed watching the soap operas (The Young and the Restless, All My Children and General Hospital), Law and Order, Jerry Springer and various court shows.

Susan was a fashionable lady, she liked hats and fishnet stockings and people were always surprised by her age because she never looked it. Susan was a loving person, quiet but very friendly and kind. There was always family, friends and other people's children at the house because everyone knew she was going to cook that good food and let them stay as long as they wanted.

Susan is preceded in death by her parents, Alexander and Mary Ruth Adams, her siblings: Joseph, James, Daisy, Dorothy Marie and Alice and her daughter, Diane. Susan leaves to cherish her memory four generations of children: Charles "Pete" (Mildred), Dorothy "Babysis" James "Monk", Joseph "Joeboy" (Jacquelyn), Margaret "Cake" (William), George "Georgie" (Valarie), Francis "Chucky" (Antoinette) and a host of grandchildren, great-grandchildren and great great-grandchildren, nieces, nephews, relatives and friends.

Viewing, 9:30 a.m. until Mass of Christian Burial, 11:00 a.m., Friday, March 9, 2018 at St. Mary Star of the Sea Catholic Church, 30 Mattingly Avenue, Indian Head, Maryland 20640. Interment, St. Charles Cemetery, Glymont, Maryland. Arrangements by Thornton Funeral Home.