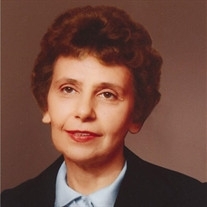 Kathryn Quade passed away on March 1, 2018 at Hospice House in Waldorf. She was born August 25, 1924 in Baltimore, MD to Charles J. and Jennie O (Lehr) Stavros. She was the oldest of three children. She was preceded in death by her two brothers, George and Paul and her daughter, Barbara Ann Rice.

On November 15, 1944 she married James Hillary Quade (deceased) and they had three children, Barbara, Jimmy, and Chuck (Charlie). Kathy had five grandchildren. Steve (Twanna) Rice, Chris (Renae) Rice, Jim Rice, Kathy (Jim) Kreilick and Susan (Ernie) Wright.

Kathy had several jobs including working at the Sears Surplus Store and as the Manager for the 301 Drive-In. She also worked at the CVS in Waldorf for 38 years, until she finally retired in December 2010 at the young age of 86. Kathy enjoyed being with her family especially for special occasions like birthdays, holidays, and weddings. Her family meant everything to her.

In addition to Kathy's children and grandchildren, she is also survived by her son-in-law Steve Rice, her daughter-in-law Mary Lee Quade, and her 11 great-grandchildren---Christopher (Elizabeth) Kreilick, Kevin Kreilick, Kaylee Wright, Mason Wright, Timothy Rice, Megan Rice, Logan Rice, Kirsten Rice, Hillary Rice, Jack Rice, and Eme Rice.

A visitation will be held on Thursday, March 8, 2018 from 5 PM to 8 PM at Raymond Funeral Service, P.A., 5635 Washington Avenue La Plata, MD 20646.

Funeral services will be held at 11 AM on Friday, March 9, 2018 at Calvary United Methodist Church 3235 Leonardtown Road, Waldorf, MD 20601 with the Reverend Robert Carter officiating. Interment to follow at Trinity Memorial Gardens 3221 Mattawoman-Beantown Road, Waldorf, MD 20601.

Pallbearers are her grandsons Steve, Chris and Jim Rice and great grandsons Chris and Kevin Kreilick, Logan and Timmy Rice. Memorial contributions may be made to Calvary United Methodist Church, 3235 Leonardtown Road, Waldorf, MD 20601, or Hospice of Charles County, 2505 Davis Road, Waldorf, MD 20603, or Sage Point Senior Living Services, 10200 La Plata Road, La Plata, MD 20646.