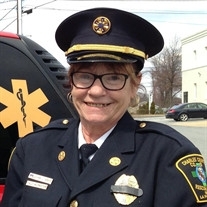 Susan Lofland Grote, 68, of La Plata, Maryland, passed away peacefully on February 27, 2018 at the St. Francis Hospital in Midlothian, Virginia. Born on April 29, 1949, in Havre de Grace, Maryland, she was the daughter of the late Alice Gillespie Lofland and Harry Briscoe Lofland.

Susan earned her Bachelor's Degree at Frostburg State and her Master's Degree at George Washington University. She was a teacher and later a Pupil Personnel Worker with the Charles County Public Schools. Susan was an active member, EMT, and Past Chief of Charles County Rescue Squad Company 51 in La Plata and an instructor/trainer with the Maryland Fire and Rescue Institute. She enjoyed traveling, antiquing, going to Ocean City, MD and rooting for the Baltimore Ravens. Susan was known for her generous heart and willingness to help anyone.

She is survived by her brothers Thomas Lofland and his wife Mary Jo of Elkton, MD, Randall Lofland and his wife Jackie of Midlothian, VA; nieces and nephews Kate, Scott, Samantha, Cody and Garrett; and her CCVRS family.

Visitation will be from 9 AM until time for Fire/EMS Prayers and Service to begin at 11 AM at the La Plata Volunteer Fire Department, 911 Washington Avenue, La Plata, Maryland 20646. Interment to follow service. In lieu of flowers, memorial contributions may be made to Charles County Volunteer Rescue Squad, P. O. Box 40, La Plata, Maryland 20646. Arrangements by Raymond Funeral Service.