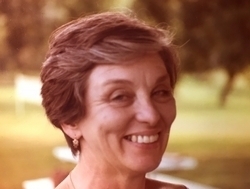 Ella LaVerne Logan, 91, of Sunderland passed away February 23, 2018 at Brightview Assisted Living in Edgewater. She was born August 23, 1926 in Baltimore to Louis Christian, Sr. and Ella I. (Bragg) Wolf. LaVerne was raised in Baltimore and graduated from Hyattsville High School in 1943. After high school, she sang at the USO where she met Mauro Bruno. They married in 1944 and later divorced in 1955.

LaVerne sang professionally with big bands and while singing with The Vikings she met Stanley Cook. They married in 1956 and were married until his passing in 1976. She then married Richard "Dick" Logan in 1978 and they made their home in Falls, PA until moving to Sunderland in 2008. LaVerne was a gifted singer and won the Senior Idol Contest in Calvert County in 2013. She was a member of St. Andrew's Lutheran Church in Silver Spring, the Lutheran Women's Association, First Lutheran Church of Calvert County, and was a former member of Diamond Hollow United Methodist Church in PA. LaVerne was also a volunteer and past president for Meals on Wheels.

LaVerne was preceded in death by her husbands Mauro A. Bruno, Stanley G. Cook, Jr. and Richard "Dick" Logan, and a brother Louis C. Wolf, Jr. She is survived by children Robert Michael Bruno of Gaithersburg, Christian Lavern Bruno and wife Anita of Sunderland and Stanley George "Barney" Cook III and wife Pamela of Damascus, grandchildren Aria "Nikki" Thomas, Benjamin Bruno, Gregory Cook and Tracy McLleland, great-grandchildren Cole, Sophia and Emma Thomas, Ryker Bruno, Lillian Cook, and Avery and Aiden McLleland, an "adopted" daughter Beth Lynn Jenkins, as well as numerous nieces and nephews. Arrangements by Rausch Funeral Home.