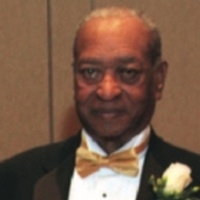 Herman Odell Sheff was born Thursday, February 1, 1940 in Rockingham, North Carolina to Ruth Ann (Brim) Sheff and Herman Robert Sheff. "Puddin" as he was more affectionately known, grew up and attended school in Amelia, Virginia. After school, he worked with his brother, Robert, cutting pulpwood.

Herman met the love of his life and at the age of 17 he married Nannie Marie Jasper, April 20, 1957. From this union five children were born. In 1960, he and his family moved to Boston, Massachusetts, where he worked at Harvard Coating Company and for a taxi cab company as a detailer. In 1963 they moved to Maryland where he became an entrepreneur starting several businesses. Herman continued his trade of cutting pulpwood and hauling logs, often hiring the neighborhood young men to assist. He was also a Master Chain Saw Sharpener and Operator, neighborhood barber and mechanic. In 1965, he began his career at the Naval Ordnance Station (N.O.S.) in Indian Head, Maryland as an Explosive Worker. As his career at N.O.S. broadened, he transferred to the Transportation Department, driving buses, oil tankers, tractor trailers hauling explosives, missiles and other hazardous materials. He even drove taxi's when picking up dignitaries. Basically, Herman drove anything with wheels. He retired almost 30 years later. Not one to sit idle, in 2005, he founded H.O. Sheff & Sons and became a school bus contractor and driver for Charles County Public Schools. His first bus was #20 which still runs today and is among the ten that the company owns.

Herman joined Pleasant Grove Baptist Church in Marbury, Maryland more than 50 years ago where he served as an active member in the Unified Male Choirs until his illness. He was a member of Bee Hive Lodge #66, Bad Boyz Street Rod Club and Maryland School Bus Contractors Association. He enjoyed many things; cooking, hunting, fishing, gardening, small farming, driving school buses, traveling, small engine mechanics and home repairs and was good at them all. He loved and owned hot rod cars, playing with children and spending time with family. After a lengthy illness, early Saturday morning, February 24, 2018, Herman Odell Sheff, Sr. age 78, transitioned to eternal life at the Hospice House of Charles County in Waldorf, Maryland.

Herman was preceded in death by his parents, Ruth Ann (Brim) Sheff and Herman Robert Sheff; three sisters, Nealie Williams, Eva Anderson and Mary Wilson, brother, Robert Sheff, mother and father-in- law, McKinley and Senia Jasper, son-in-law, Scott Henson, brothers-in-law, Lynn Anderson, McKinley, Walter, Roosevelt and Lawrence Jasper, granddaughter, Veronica Sheff and great grandson, Darrion Sheff.

Herman continues to live in the hearts of his beloved wife of 60 years, Nannie M. Sheff; children, Herman "Odell", Jr. (Joy), Elsie M. Henson, Barry, Darlene Thornton (Leon) and Frankie (Lisa); grandchildren, Tiffany Baylor, Derrick Sheff, La Keisha Marshall, David Sheff, Nytasha Sheff, Latesha Sheff, JaNaye Jordan, Jay T. Jordan Jr., DeAndre Jordan, Frankie Sheff Jr., Penny Sheff, Vera Briscoe, Quailynn Sheff, Terrence Gaines, Korey Crawford (Samuel) and Victor Thornton; 21 great grandchildren; one brother, Reverend Ervin L. Booker (LaFrieda) of Amelia, Virginia, sisters-in-law, Emma Rodwell of Reading, Pennsylvania and Dorothy Sheff of Amelia, Virginia; brothers-in-law, William Jasper (Gail) of Powhatan, Virginia, George Jasper (Robin) of Roselle, New Jersey, a host of nieces, nephews, other relatives and friends including two devoted friends, LeRoy Jackson and Dave Schwenker.

His Viewing will be held from 9:00 a.m. until time of Service, 11:00 a.m., Saturday, March 3, 2018 at Pleasant Grove Missionary Baptist Church, 5560 Pleasant Grove Road, Marbury, Maryland 20658. Interment, Trinity Memorial Gardens, 3221 Mattawoman Beantown Road, Waldorf, Maryland 20601. Arrangements by Thornton Funeral Home.