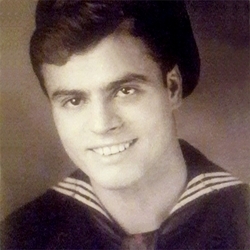 James Anthony "Jim" Tiburzi, (Ret.) USN, 93, of Lexington Park, MD, passed away Monday, February 19, 2018, at his home, surrounded by his loving family. He was born March 27, 1924 in Baltimore, MD to the late Sabatino Tiburzi and Maria Vasti Tiburzi. He was married to the late Amy Woodburn Tiburzi for 64 years.

In 1942, Jim enlisted in the United States Navy and proudly served his country until his retirement in 1962 as a Boatswain Mate (BM2). He was in World War II, the Korean War and earned six bronze stars. During his service he was a golden glove boxer for the Navy. After retiring from the Navy, he was a guard in the Uniformed Division of the Secret Service and was employed as a meticulous painter on the Patuxent Naval Air Station. He was a lifetime member of the VFW and the Fleet Reserve. At home, he raised Japanese Maples from seedlings and kept up a vegetable garden in his backyard for decades. He enjoyed softball, was inducted into the local Softball Hall of Fame, and played in the "old timers league" well into his late 80s. His other hobbies included crabbing, playing cards, especially Pitch, and relaxing with a good cigar. He was well known for jogging around the base in his painter's pants and hat. However, his greatest passion was spending time with his family, especially the children.

Jim is survived by his children: Jane Tiburzi, Port Charlotte, FL, Ronnie Bobo of Chesapeake Beach, MD, Tony Tiburzi (Debbie) of Troy, WV, Marie Dungey (Richard) of Prince Frederick, MD, Ray Tiburzi (Anne) of Hollywood, MD, Cassie Bishop (Steve) of Hollywood, MD, and Jeff Tiburzi (MarySue) of Lusby, MD; his brothers, Frank and Henry Tiburzi, both of Baltimore, MD; many grandchildren and great grandchildren; and many extended family and friends. In addition to his parents and wife, he is also preceded in death by his siblings: Angelo Tiburzi, Joe Tiburzi, Mike Tiburzi, Yolanda Beavan, Lena Sheldon, Ann Jaffa and Carmela Markwordt.

A Graveside Service will be held at a later date at Arlington National Cemetery, Arlington, VA. In lieu of flowers, the family suggests remembrances in the form of contributions to Hospice of St. Mary's, https://www.hospiceofstmarys.org. Arrangements by the Brinsfield Funeral Home, P.A., Leonardtown, MD.