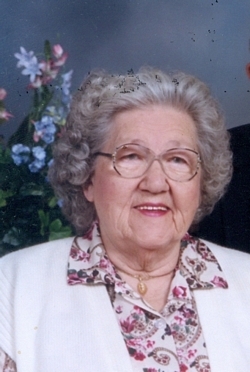 Evelyn Doris Clements Brooks, 94, formerly of Waldorf MD, passed away on February 15, 2018 in Leonardtown, MD. Born April 5, 1923, in La Plata, she was the daughter of the late Christine E. and William N. Clements. She was the great-granddaughter of Dr. Samuel A. and Sarah Frances Mudd.

She was a 1940 graduate of Glasva High School, Glasva, MD. She was very active in athletics at Glasva, including softball and volleyball for which she received many pins and awards. She married Thomas A. Brooks, from Dorchester, MA, on May 29, 1943, on the lovely grounds of St. Mary's Church, Newport, MD. At that time, Mr. Brooks was stationed at Camp Gordon, GA and was a First Sergeant in the Army. Doris worked at Metropolitan Life Insurance in Washington DC, then Ely's Department Store in Indian Head, MD and finishing her work career at Naval Ordnance Station, Indian Head, MD, from which she retired in 1988. She lived in Indian Head for 21 years where she and Tom were very active in the VFW Post 1800.

They moved from Indian Head to Waldorf in 1965, where Doris was a devoted and active member of St. Peters Parish, including the Catholic Daughters of the Americas, and Project Handclasp. She worked tirelessly for the Ecumenical Thrift Store in Waldorf. She was recognized by the Maryland Jaycees with a Certificate of Award for Maryland Jaycees Outstanding Senior Citizen dated March 13, 1993. She was an active docent at the Dr. Samuel Mudd House. She enjoyed her volunteer work, sewing, family gatherings, making many of her famous Coconut Cakes and Jewish Apple Cakes to give away. She and Tom enjoyed many trips to Ocean City, traveled many times to locations in Europe, and here in the States to join with members of the Battle of the Bulge Veterans Group and visits with family in New England.

Doris was predeceased by her husband, Tom; her daughter, Evelyn Alice Renner; her parents; brothers, William (Billy) Clements; J. Allison Clements. She is survived by her daughter, Sandra (Dick) Wildes; brothers, Edward (Joyce) Clements; Carroll (Charlotte) Clements; and Leonard (Audrey) Clements. In addition, she is survived by grandchildren: Alicia (Paul) Guenther; Lynn (James) Bowling; Thomas (Karen) Renner; Stacey Haynes; great-granddhildren: Chad and Brittany Hall; Samuel Bowling; TC Renner and Devon Gormley; and John and Christina Henry and Carly Lundin.

Viewing will be held on February 20, 2018, at Arehart-Echols Funeral Home, 211 St. Mary's Ave, La Plata MD from 2-4PM and from 6-8PM. A Funeral Mass will be held at St. Peter's Church, 3320 St Peters Drive, Waldorf, MD on Wednesday, February 21, at 10:30AM; Interment to follow in the church cemetery. Memorial donations may be made to the Waldorf VFW Post 8810 or the Catholic Daughters at St. Peter's Church. Arrangements by Arehart-Echols Funeral Home.