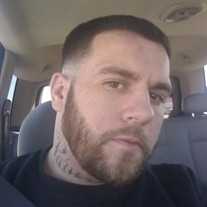 William "Billy" Bruce Lewis, 37, of Calvert County, MD, passed away unexpectedly on Monday, February 12, 2018. Billy was born on August 31, 1980 at Providence Hospital in Washington D.C. and raised in Calvert County, Maryland.

He is survived by his Mother Cheryl Lewis-Barnett, Father; Kevin Lewis, sisters Jazmyn and Ashley, brothers; Michael and Steven, along with his son; Grayson, several Aunts, Uncles and cousins.

Billy was a die-hard Dallas Cowboys fan, enjoyed fishing, watching sports, roller skating as a teen and spending time with family and friends. He will always be remembered as lovable, goofy, big hearted and a protector. Arrangements by Lee Funeral Home.