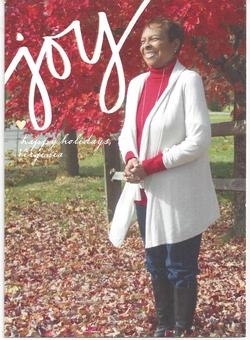 Mary Virginia Newkirk was born in Delmar, Maryland on December 22, 1927. She was the first-born child of the late Grace Garrett and James Edward Kenney. Virginia or Ginny as she was affectionately known graduated from Salisbury High School. She attended Morgan State Teachers College now Morgan State University in Baltimore, Maryland, majoring in physical education. She married the love of her life, Theodore Newkirk on April 25, 1949. In 1954, the couple moved to Lexington Park, Maryland which they considered a better place to rear children. They remained married until his death on April 21, 2013.

She was preceded in death by her husband, Theodore, one brother, Grayson Edward Kenney, three brothers -in-law, Willie Newkirk, Raymond, Newkirk, Rudolph Newkirk; and one sister-in-law, Margarite Newkirk, and her eldest grandson, Jacobi Newkirk. Surviving her are two sisters-in-law, Whilemenia Murphy and Lillian Kenney; nine children: Lauria Newkirk Turner, (Archie) Felita Dorsey, (Bobby) Leah Ferreira, (David); Bonnie Newkirk Kober, (Frank); Gwendolyn Johnson, (Michael); Gary Newkirk, (Daylynne); Theodore Newkirk Jr., (Gladys); Stuart Newkirk, (Lynn); Charles Newkirk, (Charlene). Twenty-three grandchildren, 19 great grand children and a host of nieces, nephews, and cousins

Upon marriage, the couple moved to Lexington Park, Maryland; where they resided for nearly 70 years. In addition to rearing nine children, Virginia spent many years fighting for racial and social justice in St. Mary's county. She fought alongside her husband in the NAACP to eradicate Jim Crow segregation in the schools and other public accommodations. She vigorously marched, picketed and protested to help the nation live up to the principles expounded in the U.S. Constitution. Some of her children were the first blacks to integrate the public school system in St. Mary's County.

Virginia found time to work with worthwhile community organizations; such as The St Mary's County Democratic National Committee where she worked at increasing voter registration. The St. Mary's County Board of Election, she served as the Chief Poll Judge, and with the St. Mary's County Parent Teachers Association, assisting in securing increased funding for schools. She chaired the Committee to review guidance committee programs in the public-school system, as well.

Virginia was a member of the St. Mary's County Delcados, St. Mary's Links Chapter and The Red Hat Society, Inc. Virginia served on the by-laws, scholarship, and women's' wellness health programs committees. She was on the Board of the St. Mary's Humans Relations Committee and the St. Mary's College Black Arts Festival Steering Committee. Virginia loved to cook for her family. She was meticulous in her cooking, sometimes peeling asparagus and always baking homemade desserts. Family dinners were culinary delights. She left us with peaceful memories to celebrate her 90 years on earth that will guide us always.

A Funeral Service will be held Saturday, February 24, 2018 at 11:00 a.m. at First Missionary Baptist Church, 46370 Pegg Lane, Lexington Park, MD 20653. Interment will follow at Charles Memorial Gardens, 23625 Point Lookout Road, Leonardtown, MD 20650. In lieu of flowers, memorial contributions may be made to Calvert Hospice, PO Box 838, Prince Frederick, MD 20678. Arrangements by the Brinsfield Funeral Home, P.A.