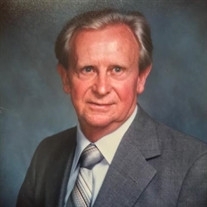 Marshall R. "Snookie" Sullivan, Sr., 95, passed away peacefully on February 11, 2018, at the University of Maryland Charles Regional Medical Center, La Plata Maryland. He was born on July 17, 1922, in Fredericksburg, Virginia to Hailey and Nanny Marshall Sullivan. Snookie grew up in Indian Head, MD and graduated from Lackey High School in 1940. He joined the Navy in 1941.

He met his future wife, Owna Kragh of La Plata, MD at a barn dance when he was on leave. They kept in touch through letters while he served in WWII. When the war ended in August of 1945, they celebrated VJ Day with thousands of others in Times Square in New York. They married a few weeks later (and celebrated their 72nd wedding anniversary this past September 1st). After the war, Snookie went to work at the Naval Powder Factory in Indian Head—starting out as an apprentice electrician, and eventually becoming a Master Electrician. Together they raised four children. Although he retired from his government job in 1977, he continued working in his own electrical business until he finally "really" retired at the age of 88.

Snookie was a member of the Harry White Wilmer Post 82 American Legion for 58 years. He enjoyed fishing, going to the American Legion dances, spending time with his family and traveling. He and Owna went to Florida every year for 30 years to enjoy retirement with friends from Indian Head.

Snookie is preceded in death by his parents and his siblings, Berthaline Gore, Hailey Jr., Vivian, and Paul. Snookie is survived by his wife Owna Kragh Sullivan; their four children: Marshall R. Sullivan, Jr. (Dorothy Gardiner (d.), Linda Sullivan Cox (Donald R. Sr. (d.)); Deborah Sullivan Payne (Michael); Ronald G. Sullivan (Tya Woodson); 11 grandchildren; 22 great-grandchildren; and five great-great-grandchildren.

Visitation will be held on Friday, February 16, 2018 from 12-3PM with an additional visitation on Saturday, February 17, 2018 from 11AM until time of American Legion Service and Funeral Service beginning at 12:15PM at Raymond Funeral Service Chapel, 5635 Washington Avenue, La Plata, MD 20646. Interment to follow at 2PM at Trinity Memorial Gardens, 3221 Mattawoman Beantown Rd, Waldorf, MD 20601. In lieu of flowers, the family request memorial donations be made to: American Legion Post 82, P.O. Box 441, La Plata, MD 20646.