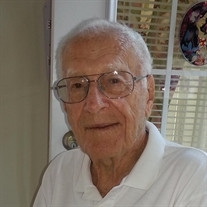 DuWayne "Pete" Sebenaler (98 years young), known as Dad, or Pop Pop, of La Plata, MD, passed peacefully with family February 6, 2018 at the University of Maryland Charles Regional Medical Center. DuWayne was the beloved husband of Alice and devoted father to Debra, Brian, and Michael. Born in St. Charles, Minnesota, May 22, 1919 to the late Hazel Bouffler Sebenaler and Peter Sebenaler. DuWayne is also preceded in death by four siblings (Dorothy, Donald, LaVerne, and Russell).

DuWayne, number 2 of 6 six children, left his family farm at the age of 18 starting his life journey. He served in the U.S. Navy from 1942 to 1946, where DuWayne met the love of his life (Alice) and future wife at the USO. It was DuWayne's smooth moves on the dance floor, strength of character, and sense of humor that made Alice know DuWayne was her destiny. DuWayne completed a 43 year career with the Federal Government retiring as a Deputy Clerk of the court for the U.S. Tax Court in 1984. DuWayne's passion was spending time with his family - - family was always first, he was the epitome of Husband, Father, Grandfather, and Great Grandfather. DuWayne was adored by his wife, children, grandchildren, great grandchildren, extended family and friends.

DuWayne is survived by his wife of 70 years, Alice Rauch Sebenaler, his daughter, Debra (Paul) Markey, his sons Brian (Suzanne) Sebenaler and Michael (Lisa) Sebenaler and brother Delton (Dorothy) Sebenaler. He is also survived by 6 grandchildren (Carrie, Kevin, Hannah, Nicholas, Scott, and Jessica), and 6 great grandchildren (Preston, Baylee, Ashlynn, Ashlyn, Bailey, Logan).

DuWayne was a member of Sacred Heart Catholic Church Family. Friends are invited to the funeral service which will be held on Monday, February 12, 2018, 10:00 a.m. at Sacred Heart Catholic Church, 201 St Mary's Ave, La Plata, MD 20646. In lieu of flowers, the family suggests memorial contributions may be made to Sacred Heart Catholic Church, P.O. Box 1390, La Plata, MD 20646.