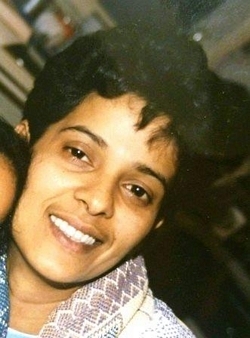 On February 3rd, 2018, RobinAnn Coralie Boschert passed peacefully surrounded by family and friends. She is preceded in death by her Father, Paul Ali, her siblings Debrid Ali (brother), Coral Watson (sister) and Sian Staggs (sister) along with her beloved pets.

She is survived by her husband Matthew J. Boschert, Sr., son Matthew J. Boschert, Jr. (Joey), his wife Savannah Parsons and their daughters, Brayden, Marley and Quinn, and daughter Victoria A. Boschert (Tori), her husband Dane Whittington and their son Victor, as well as her mother Eva J. Ali and siblings, Fern Savage (sister), Shaun Ali (brother), Tracy Baur (sister) and Cressida Ali (sister)

Born in Port Au Spain, Trinidad & Tobago on July 26th, 1962, RobinAnn grew up in a large family who moved to the United States in 1976 when Robin was 14 years old. She and her family resided in Miami, FL where she attended high school and also developed a love for the Miami Dolphins and The University of Miami Hurricanes. In 1984, RobinAnn moved to Virginia Beach, VA with her sister and late brother-in-law, Fern & Scott Savage. Shortly after moving, Robin met the man who she would very soon marry and spend nearly 34 years with, Matthew (Matt).

Not quite a year after becoming husband and wife, Matt & Robin welcomed their first child in 1985, their son Joey. They then moved from Virginia to Maryland where they planted their roots and settled their family. Robin worked for Calvert Bank for several years as a Teller where she made lifelong friends and positively impacted those in the community with her warm smile and friendly personality and in 1989, Robin & Matt welcomed their second child, their daughter Tori.

Robin would spent the next 20+ years enjoying family life and watching her children grow up playing sports and participating in the musical arts. She loved to cheer her kids on and be their biggest fan. Robin loved the beach, spending time with friends and family, watching and debating sports and was an avid Euchre player. Robin leaves this world loved by many and in the words of her grandson, "will always be in our hearts and our heads."

Family will receive friends on Saturday, February 10, 2018 from 12:00 p.m. until 3:00 p.m. with a Funeral Service celebrated by Chaplain Bill Miller following at 3:00 p.m. at Rausch Funeral Home, P.A., 20 American Lane, Lusby, MD 20657. Interment will be private. Memorial contributions may be made to Calvert Hospice, P.O. Box 838, Prince Frederick, MD 20678. Arrangements by Rausch Funeral Home.