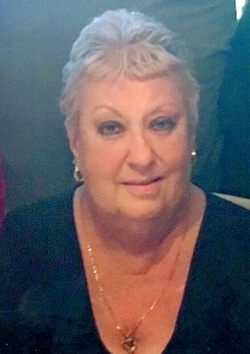 Violet Marie "Bootsie" Grimes, 57 of Prince Frederick, MD passed away on February 2, 2018 at Georgetown Hospital in Washington, DC. Bootsie was born to the late Henry Samuel Goldsmith and the late Isabelle Cora Alvey Goldsmith on June 20, 1960 in La Plata, MD.

Bootsie worked for Chappelears Restaurant in Benedict, MD, along with her mother and sister for at least 30 years as a cook/server and eventually a manager. That is where she learned to become a great cook especially in seafood even though she was famous for her chicken salad. Later on she also worked as a bank teller and receptionist for a mortgage company. Her latest position was with the Used Car Factory in Mechanicsville, MD. Bootsie took pride in all of the job duties she performed; however, there were times that she missed work because of her illness. She also loved spending time with her sisters going to Pennsylvania and enjoying shopping, eating and partying. Thankful, she was able to get to go recently on a shopping spree in Rehoboth Beach, which she thoroughly enjoyed. She loved spending time with all of the youngsters in the family, especially Shaniya, Damarian and Lil Anthony. Anyone who knew Bootsie would have known that she was kind person with heart of gold.

In addition to her parents, she was predeceased by her siblings, Henry Goldsmith, Jr., Mary Bell Mister, Frances Higgs and Louis Patrick Goldsmith. Bootsie is survived by her loving husband, Richard Eugene Grimes, siblings, Archie Goldsmith (Patty), Sam Goldsmith (Delores), Betty Ann Vietor, Gertie Goldsmith, Connie Ankrom, Elsie Mae Good, Barbara Jean Cullember and many nieces and nephews.

Family will received friends for Bootsie's Life Celebration visitation on Thursday, February 8, 2018 from 2pm to 4pm and 6pm to 8pm with prayers at 7pm at Brinsfield Funeral Home, 30195 Three Notch Road, Charlotte Hall, MD 20622. Funeral Services will be on Friday at 11am at Brinsfield Funeral Home in Charlotte Hall. Interment will follow at St. Mary's Catholic Church, 13715 Notre Dame Place, Bryantown, MD 20617. Pallbearers will be: Johnny Mister, Charles Grabis, Michael Goldsmith, Daniel Good, Patrick Goldsmith and Ross Goldsmith. Honorary pallbearer will be Gerald Mister. Donations may be made to: The American Cancer Society, P.O. Box 73123, Oklahoma City, OK 73123.