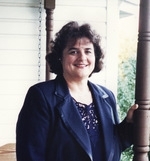 Lois Ruth Anderson Hodges, age 70, died peacefully at her home on Wednesday, January 31, 2018. Born February 1, 1947, in Leonardtown, Maryland, to the late Albert and Dolly Anderson, Lois is survived by her daughter, Lois Annette Hodges, and her siblings, Jennings Anderson (Sheila), Bert Anderson (Jackie), Faye Downs (Lee), Nancy Bowles (George), and Janet Schwab (Julian), and many nieces and nephews.

Lois was a life-long resident of St. Mary's County. She graduated from Margaret Brent High School in 1965. In 1963, Lois was proud to be crowned the St. Mary's County Queen of Tolerance. In her younger years, Lois enjoyed playing softball, playing many years with Earnshaw's and finishing her softball career at Capt. Sam's. Lois played short field and was a great left-handed batter who hit with power and for a high average. She was on many all-star teams and was MVP of her team several times.

Lois' greatest love and joy was her daughter Annette and her family. She always demonstrated the qualities of hard work, determination and independence and instilled these qualities in those around her. Lois looked after everyone, always putting the needs of others before her own. She was the family matriarch who was visited often for advice, guidance, an extra hand, or simply her loving smile. Lois was a beautiful person inside and out, and an extraordinary mother, sister, aunt and friend.

Lois considered one of her greatest achievements purchasing the farm of her late great uncle, Dick Barber, known as Barber's Hope, in 1991. She truly loved being on the farm, and was content sitting on her porch watching the birds and enjoying the beauty of the farm. Lois was an excellent cook, especially known for her hot pickles and holiday eggnog. The farm became a gathering place for the family, and several family members or neighbors were often found on her porch eating crabs and sharing stories.

Family and friends are invited for visitation to Mattingley-Gardiner Funeral Home in Leonardtown on Monday, February 5, 2018 from 5:00 PM to 8:00 PM with prayers recited at 7:00 PM. A Mass of Christian Burial will be celebrated on Tuesday, February 6, 2018 at 10:00 AM in Our Lady of the Wayside Catholic Church in Chaptico, MD with Father Michal Sajnog officiating. Interment will follow in Charles Memorial Gardens Leonardtown, MD. Pallbearers for Lois will be Annette Hodges, Dale Anderson, Ebby Bell, Vic Anderson, Takisha Bowles, Derrick Bowles, Dillon Bowles, and JR Anderson. Honorary Pallbearers are Donna Gardner, Dee Norris, Julie Marcos, Loretta Fields, Ashley Solan, Cody Anderson, Shelby Anderson, and Weylin Anderson. Contributions may be made to St. Mary's Nursing and Rehabilitation Center, 2185 Peabody Street Leonardtown, MD 20650. Arrangements by Mattingley-Gardiner Funeral Home.