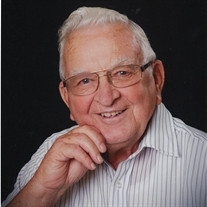 James Louis Scott, better known as Poppy, Scotty, Uncle Lukey, Jay and Buzz, 83 of La Plata, MD, died at home on February 1, 2018, after a lengthy illness. Louis was born in Washington, DC, on April 22, 1934. He was the son of the late Mary Blanche Welch Scott and Joseph Leo Scott.

Scotty served in the U.S. Airforce from 1953-1957 and then worked at The Naval Ordinance Station, Indian Head, MD for 34 years. He worked in the nitroglycerin plant from 1957 to 1968 and then served as a government firefighter from 1968 to 1989. Jay enjoyed eating crabs, listening to Bluegrass music, camping, cheering for the Redskins, and spending time with his family.

Poppy is survived by his wife of 59 years, Shirley Mae Huntt Scott, his sons, Mark (Marybeth) Scott and Cliff (Cathy) Scott, his daughters, Kathy (Hank) Luers, Janet (Jeff) Morris and Kim (Dale) Buchanan, and sister Alice (Dickie) Hanson. He is also survived by his 9 grandchildren, 5 great grandchildren, with two additional great grandchildren on the way.

Family and friends are invited to the viewing on Monday, February 12, 2018 at Raymond Funeral Home, 5635 Washington Avenue, La Plata, MD, 20646 from 2:00 to 4:00 and 6:00 to 8:00, with prayers at 8:00pm. Mass will be offered on Tuesday, February 13, 2018, at St. Joseph's Catholic Church, Pomfret, MD, from 11:00 to 12:00, with interment to follow in the church cemetery. Memorial contributions may be made to St. Joseph Capital Campaign Fund, 4590 St. Joseph Way, Pomfret, MD, 20675. Arrangements by Raymond Funeral Service.