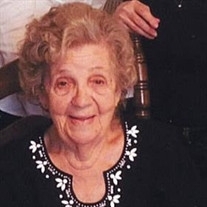 Margaret A. Sansone, age 98, of Waldorf, Maryland died January 31, 2018. Margaret was a retired Clerk with the Defense Mapping Agency who also liked to dance. Born and raised in Georgetown, her father delivered supplies by barge down the C&O Canal. She was known as a loving wife, mother, and grandmother who enjoyed the simple life.

She was the daughter of Albert Crampton and Lillian Munday Crampton. In addition to her parents, she was also predeceased by her husband, Joseph Sansone. She is survived by Gail Bayne (Tony), Mary Anne Hanson (Skip), Catherine Morrison (Jim), Joseph L. Sansone (Brenda), Susan Sigona (Robert), and Vicki Toman (Michael). Also survived by 18 grandchildren, 17 great grandchildren, and three great-great grandchildren.

Friends received on Wednesday, February 7, 2018 from 10AM until time of Funeral Service at 11AM at Raymond Funeral Chapel (La Plata, MD). Interment at Trinity Memorial Gardens (Waldorf, MD). If desired, memorials are asked to Alzheimer's Association. Arrangements by Raymond Funeral Service.