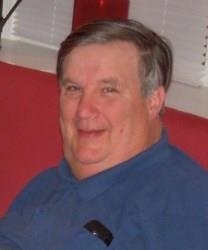 Ray passed away unexpectedly on January 29th, 2018 at his home in Cobb Island, MD. Ray was born on July 1, 1949. He was the son of Claude (Babe) Raymond Henderson and Sarah Magruder Edelen Henderson. Ray grew up in Indian Head, MD, graduated from Lackey High School, and was a Life Scout. He spent many days working at the family business pumping gas and traveling and camping with his family in the summers.

Ray led a long, successful and acknowledged career in the Information Technology field spanning over 45 years working for Ford Motor Corporation, Honeywell, Oracle Corporation, SAIC and the MITRE Corporation, supporting both Federal and commercial customers. His career spanned numerous cutting edge projects highlighting the growth and evolution of the computer industry from the 1970's through the present supporting large scale enterprise solutions. Many of the then-emerging technologies are now contained in case studies taught in college programs today. His career included supporting the growth of the space programs at NASA Cape Canaveral for the space shuttle and rocket testing at Wallops Island, major systems engineering and benchmark programs for Honeywell Federal Systems Division including The US Army Corps of Engineers, General Service Administration, Pension Benefit Guarantee Corporation, major programs for Oracle Corporation and SAIC including the Defense Logistics Agency, and the IRS, United States Marine Corps, Department of Census, and Department of Commerce while at the MITRE Corporation.

Ray has touched the lives of all those with whom he has worked in countless ways. On all of the programs and projects that Ray has supported, his friends and colleagues all have taken away fond and loving memories of him. Stories of working with Ray are always full of respect, friendship and his constant willingness to help others. He always took a personal interest in those with whom he worked, at the same time sharing his leadership, experience, friendship and wisdom.

The mold was truly broken with Ray, and he will be in our hearts and memories forever. Ray's real passion, however, was boating and being on or near water. Ray was happy just sitting on his dock with an ice tea or Diet Pepsi. Ray loved his boats. He had many boats over the years, from a small 15-ft to 35-ft Sea Ray. He spent countless weekends either working on his boats or fishing. Fishing on the Potomac River was his thing. If you ever went fishing with Ray, then you should have your own stories to tell about fun on the Potomac. Like all good fishermen, he had the stories of the "fish that got away." However, he also had a sailfish on the wall, so some of the stories were probably true.

Ray is survived by his sister Ann Magruder Henderson Ducote of Indian Head, MD and her husband Andre J. of Harahan, LA. (both now live in Titusville, FL), nephew Brian James Ducote and his wife Jessica Lin, along with grandnephew Alexander and grandniece Mackenzie. Ray has signed off from all his accounts and is now fishing full time. Arrangements by Huntt Funeral Home.