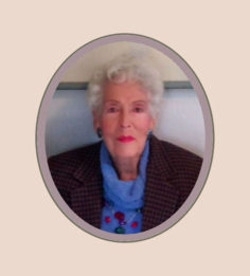 Priscilla was born March 30, 1923 in Great Mills, MD. She passed away peacefully on January 29, 2018, at Salem Nursing and Rehab in Roanoke, VA, she was 94. Daughter of the late Frederick Skinner Chichester Sr., and Maude Alice Callaway Chichester of Aquasco, MD, and sister of the late Frederick S. Chichester Jr. of Hughesville, MD. She was preceded in death by her husband, Gus Marvin Mende Jr., of Cambridge, MD; and by her second husband, Elbert Vernon Dyson Jr. of Charlotte Hall, MD. She is survived by daughter, Kara Ann Craft, and son, Mark Devlin Callaway of Roanoke, VA; and by son, Stephen C., and Margaret H. Mende, and granddaughter Sarah Ann Mende of Floyd, VA.

Priscilla attended St Mary's College of Maryland, graduating with the class of 1942, which at the time of her attendance, was known as St. Mary's Female Seminary. She was a member of St Mary's Episcopal Chapel, Aquasco, and Old Fields Episcopal Chapel in Hughesville, MD. In more recent years she was a member of Floyd Baptist Church, Floyd, VA, and most recently, St John's Episcopal Church, Roanoke, VA. Priscilla loved the Lord and wanted others to know Him as well.

She loved farming, and was an avid gardener. One of her later jobs was with the Virginia Tech Agricultural Extension agency in Floyd County, VA. Always wanting to give of herself, she volunteered for 18 years at Skyline Manner Nursing and Rehab in Floyd, VA, retiring in 2005.

Visitation and service will be at Brinsfield Funeral Home, P.A., 30195 Three Notch Road, Charlotte Hall, MD 20622, on Thursday, February 1, at 11:30AM for Visitation followed by a Funeral Service at 1PM. Interment will be at St. Mary's Episcopal Chapel Cemetery in Aquasco. Arrangements by the Brinsfield Funeral Home, P.A., Charlotte Hall, MD.