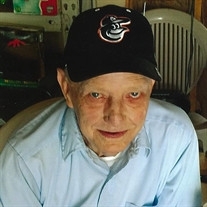 Thomas Augustus Simpson, Jr., age 79 of Waldorf, Maryland, died January 27, 2018 at his residence with Hospice. Thomas was a long-time self-employed carpenter for 30 years. In his early years, he served with the Army National Guard. He was a big Baltimore Orioles fan and he enjoyed playing pool. In the mid 1970's, he worked on cars at the La Plata Exxon.

He was the son of Thomas Augustus Simpson and Alice Catherine Lucas Simpson. In addition to his parents, he was also predeceased by his brother, William Charles Simpson and his sisters, Dorothy Ullman, Catherine Ayling, and Mary Alice Quarles.

He is survived by his sons, Thomas A. Simpson (Debra), Robert M. Simpson (beloved companion, Dawn), and Ronald L. Marshall; his sisters, Margaret T. Ullman, Elizabeth Ann Parnell, and Frances Elaine Ullman; his grandchildren, Crystal, Dusty, and Anthony Simpson, and Crystal Filipic; his great grandchildren, JD, Dominic, Marley, Cheyenne, Kaya, and Kruno.

Friends received on Friday, February 2, 2018 from 5-8PM with Funeral Service at 7PM at Raymond Funeral Service Chapel, 5635 Washington Avenue, La Plata, Maryland 20646. Memorials in Thomas' name are asked to Hospice of Charles County, 2505 Davis Road, Waldorf, Maryland 20603. Arrangements by Raymond Funeral Service.