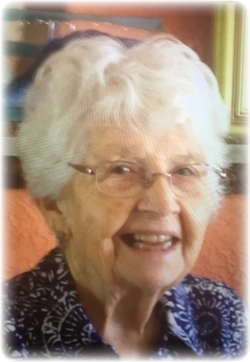 Frances Madalin Ventre died on January 25, 2018 with her daughters Lynn Ventre and Sandy Ventre Richards and family friend Ginny Meyer at her bedside at Hospice House in Callaway, Maryland. She was a member of what Tom Brokaw called "The Greatest Generation" and her values were that of personal responsibility, humbleness, commitment to family, and a strong work ethic.

She was born in Stokes, NC on July 29, 1925 to a legacy of tobacco farming. Like many women of her time, and at the cusp of her twenties, she joined in the war effort working for the telephone company fielding calls for the Manhattan Project in Washington, DC. It was in the nation's capital where she met the love of her life, Anthony Ventre from Old Forge, PA. In the fifties the family would live in Taiwan on a compound for CIA personnel. After several tours, they would return to Clinton, Maryland where the family lived on Dangerfield Road. Anthony Ventre died of a sudden heart attack and laid to rest at Arlington Cemetery in April of 1966.

In her late 70s, Frances worked with her builder to design her waterfront home on Waterloo Lane, the former site of her Uncle Bill Bullock's summer cottage. Here, she lived a strong, independent life. She enjoyed spectacular sunsets, the connection to nature and respecting the hardships of waterman harvesting crabs and oysters on St. Catherines's Sound off the Potomac River.

Preceding her in death were her parents Hubert and Frances Elizabeth Warren and six brothers and sisters—their roots in farming in Stokes, NC on the Warren farms. In addition to her daughters, Frances is survived by her son Anthony Ventre of Middletown, MD, son-in-law Alan Richards of Lake Tahoe, and only surviving sister Betty Bergman of Rockville, MD. Other family members are: Lisa DePinto (Vito) of Naples, FL.; Adam Robb (Diana) of Lake Tahoe; Alessandra Richards Donder (Scott )of Seattle, WA; Ian Richards of Lake Tahoe. Great grandchildren are Addie Romsa, Olivia DeAngelis, Seve DePinto, Liam Robb, and great great grandchildren Paisley, Presley, and Wyatt Romsa. She has many loving nieces and nephews in NC, MD, and FL.

Family will receive friends on Saturday, February 3, 2018 from 11:30 a.m.-1:00 p.m. with a Memorial service at 1:00 p.m. at the Brinsfield Funeral Home, 22955 Hollywood Road, Leonardtown, MD 20650. More hugs, kisses, and laughter to follow at the Front Porch in Leonardtown at 2:00 p.m. In lieu of flowers, please honor our mother's memory through donations to the Hospice House of St. Mary's, P.O. Box 625, Leonardtown, MD 20650 for heartfelt work of those caring and comforting our mother during her last weeks. Burial will take place in Arlington Cemetery as their calendar permits. Arrangements by the Brinsfield Funeral Home, P.A.