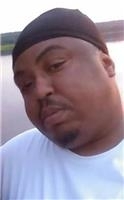 Michael "Mikey" Aloysius Mason, 42, of Leonardtown, MD, (formerly of Valley Lee, MD), departed this life on January 27, 2018 at St. Mary's Hospital, Leonardtown, MD after a lengthy illness. He was called home to be with the Lord where he shall suffer no more. Michael was born on February 9, 1975 to Patricia and Joseph Aloysius Green. He was educated in the St. Mary's County Public School system.

Michael enjoyed keeping his vehicles cleaned, helping family members with anything they ask him to assist with, listening to his go-go music and spending time with family and friends. During family gatherings, Michael would be the "life" of the party with his funny jokes, demeanor and dance moves. Michael's fashion statement was his black tee shirt and stocking cap.

Michael was preceded in death by his grandparents, James Louis and Betty Elizabeth Mason and Mary Green; brother, Joseph Aloysius Carter; one aunt, Doris Mason; one uncle, James Louis Mason, Jr. (Junie) and uncle-in-law, Robert Medley, Sr. (Bobby). Michael leaves to cherish his memories a devoted loving friend, Devin Barrick; two daughters, Camilliah Somerville and Tysha Mason; four sons, Michael Aloysius Mason, Jr., Martrel Aloysius Mason, Malik Jordan and Marlin Morgan; four grandchildren, Camya Somerville, Jakiya Somerville, Zayden Somerville, Kaelynn Somerville and one soon-to-be born, Nyla Renee Jackson; five sisters, Michelle Mason, Regina Mason, Sherry Green, Tanya Green and Corrindi Hebb; four brothers, Joshua Mason (Josh), Darrell Green, Cornellius Green and Dequinte Green; a host of aunts and uncles, Betty Jean (Charlie), Darnell (Lou), Robert, John (Jackie), Calvin, Mary "Lena" (Bobby), Linda, Darryl (Tosha), Brian(Tamecia), Ray (Tasha), Steven (Ann), Tyrone (Diedra), Thelma Thompson, Martha Carter, Bobette Stewart and Wilbert Dickerson; six close friends, Charles "Little Man" Mason, Joseph "Von" Mason, Tony Gladden (Tyrone), Sheron Price, Tavoy Summerville, Wayne Briscoe (Slowy) and his sandbox friend, Joe Sommerville.

Michael also leaves behind a host of nieces, nephews, relatives and friends. Family and friends will unite on Tuesday, February 6, 2018 for visitation at 10 am until Mass of Christian Burial at 11 am at St. George's Catholic Church, 19199 St. George's Church Road, Valley Lee, MD. Interment will follow at St. George's Church Cemetery. Monetary donations to help with funeral expenses may be made directly to Briscoe-Tonic Funeral Home, via. cash, credit card, cashier's check or money order. No personal checks accepted. Arrangements by Briscoe-Tonic Funeral Home.