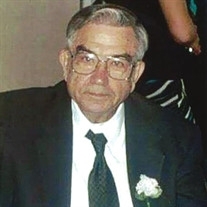 Ernest "Ernie" Lee Sigmon, Sr., 84, of Waldorf, MD, passed on January 23, 2018. He was born in Hiawatha, West Virginia, a small coal mining town, on May 21, 1933 to Edward and Annie (Cook) Sigmon.

He moved to Washington, DC in 1950 with his cousin to work at the Coca-Cola Company washing bottles. He proudly served in the U.S. Army 3rd Infantry Division and fought valiantly in the Korean War. He loved the Washington Redskins, old cars, fishing, camping, playing cards, and going back to West Virginia to spend time with family.

In addition to his parents, he was preceded in death by his sister Gladys and brothers Wrobey, Eddie, Dale, Johnny, Kenneth, Robert and Lacy. He is survived by his loving wife of 65 years, Mabel (Gracie); his sister Shirley; and brothers Estelle and Michael, son Edward and wife Dinah; daughter Mabel (Gene) and husband Frank; son Ernest, Jr. and wife Mary; daughter Mary and husband Jeff; daughter Linda and husband Gus; daughter Dawn and husband Tony; daughter Shirley and husband Jon; his beloved 19 grandchildren (Edward, Jason, Jessica, Christina, Ernest, Anthony, Brian, Frank, Nicole, Sabrina, Chase, Marie, Michael, Kevin, Michelle, David, William, Ashley and Jonathan); and 26 (and counting) great grandchildren.

The family and friends will be received on Wednesday, February 7, 2018 from 2-4PM and from 6:00PM until time of service at 7:00PM at Raymond Funeral Service, 5635 Washington Avenue, La Plata, MD 20646. Interment will be on Thursday, February 8, 2018, 10:15AM at Cheltenham Veterans Cemetery, Cheltenham, MD. In lieu of flowers, memorial contributions made be made to Hospice House of Charles County, 2505 Davis Road, Waldorf, MD 20603. Arrangements by Raymond Funeral Service.