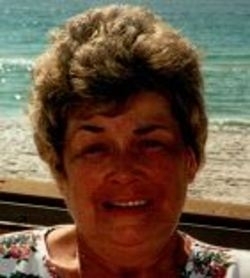 Elizabeth Sue (Plummer) Sparks, or "Bette Sue" as she was better known by her loved ones, passed away peacefully on Wednesday, January 24th at the University of Maryland Charles Regional Medical Center surrounded by her family. Born in 1942 and having grown up in Upper Marlboro, MD, Bette Sue considered her life to have truly begun when she met her beloved husband, Claude Sparks, through her work at the FBI. Shortly after, in September 1963, they were married and began their life-long partnership together.

When her mother passed in 1965, Bette Sue gained custody of her sister Cindy; who she helped to raise and would always speak to the positive impact that Cindy had on her life. In addition to this, her family soon grew even larger with sons Michael (born in 1966) and Gregory (born in 1967). Never fond of remaining idle, Bette Sue would always busy herself with her professional career. She worked as an Administrative Assistant for several government agencies, including the Department of Commerce, the Bureau of Indian Affairs, and Andrews Air Force base. Upon her retirement in 2001, she became a pillar in the community at Mt. Zion United Methodist Church where she would spend the majority of her efforts strengthening the faith of those around her.

In addition to her heavy involvement in her church community, she always prided herself in her passion for music. Through this, she would donate countless hours and immeasurable energy to ensuring the success of Chopticon High School's marching band; living to see not only her son Greg perform, but also her grandsons Dakota and Hunter carry out the same legacy. Her love of music also carried into her personal and religious life, where she was a virtuoso at playing the piano, organ, and singing in the church choir.

She is survived by her sister Cindy and her husband Charlie Beardsley of Port Tobacco, MD; her son Mike and his wife Rachel Sparks of Mechanicsville, MD; her son Greg and his wife Candi Sparks of Bakersfield, CA; her grandchildren Dakota, Hunter, Caydence, and Sawyer Sparks; and her nieces Lisa Fulton and Jenny Casler. She is preceded in death by husband Claude Sparks and brother, Richey Plummer.

Visitation will be held at the Brinsfield Funeral Home in Charlotte Hall, MD on Monday, January 29th from 2-4PM and from 6-8PM with prayers at 7PM. A funeral service will be held at Mt. Zion United Methodist Church, Mechanicsville, MD on Tuesday, January 30th at 11AM. Interment will follow in the church cemetery. Memorial contributions may be made to the Mt. Zion United Methodist Church Hungry Team, one of the many charities to which she enjoyed donating funds. Arrangements by Brinsfield Funeral Home.