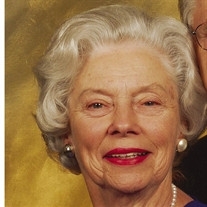 Madelyn Griffith Irish waved goodbye peacefully at home in La Plata, MD with her loving husband by her side on January 23, 2018. She was 87 years old. Madelyn was born June 15, 1930 in Baltimore, MD. She is survived by her husband, Ernest Leopold Irish, daughter, Sarah Marshall Griffith Kurtz (Thomas E.) and son, John Dement Griffith (Kimberly Book), four grandchildren, and one great-grandchild. She is predeceased by her first husband, Philip L. Griffith of Spye Park, White Plains, MD.

Madelyn worked for the US Dept. of the Interior, at the US Geological Survey, as a Cartographer Technician and an Artistic Illustrator. All the while, she was raising two children at Spye Park with Phil, her husband, and both were commuting back and forth to town daily. She was extremely proud of the work she produced there. Family and friends were Madelyn's first love and joy. She loved talking about them, not herself.

Madelyn touched many lives with her gentle manner and unassuming way, but given the occasion, she could be feisty in her reaction and determined in her opinions. Gatherings at her home would mean a pleasant time and good company. Many remember her and Phil standing on the porch of Spye Park, hand in hand, waving goodbye to their guests. They were the epitome of southern charm and grace.

She was a devout Episcopalian and member of Christ Church in La Plata, MD, and a member of many societies and organizations. These included the Port Tobacco Chapter of the Daughters of the American Revolution, the United Daughters of the Confederacy, Lady Jane Sewall Chapter of the Colonial Dames XVII Century, and the Charles County Historical Society. She also enjoyed quilting and as a member of the Quilters Guild of Southern Maryland, shared her passion in a spirit of fun and camaraderie.

Madelyn and Ernest Irish traveled extensively while he was serving as an officer in the Sons of the American Revolution. She enjoyed these adventures tremendously. They were also members of MOAA (Military Officers Association of America). She has quietly assisted many in her community without fanfare or recognition and leaves a legacy to us all to be kind and just.

The family wishes to thank all of those who cared for her over the last months and those who came to visit, and sent her many cards and good wishes. She will be greatly missed as we all wave goodbye to this truly great lady.

The family will receive family and friends at Christ Church, 112 East Charles Street, La Plata, MD 20646 on Saturday, February 3, 2018. Visitation will be 9 AM to 10:30 AM with the Service at 11:00 AM, followed by interment at Mt. Rest Cemetery, La Plata, MD. Arrangements by Raymond Funeral Service.