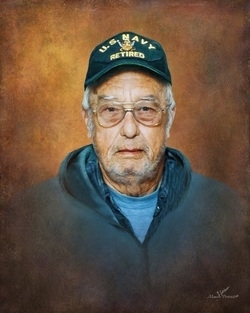 Richard Dale Goings, 78, of Lexington Park, MD, formerly of Farmington, passed peacefully at MedStar Georgetown Hospital attended by his family on January 18th, 2018. He was born June 18th, 1939 in Farmington, the son of Richard and Faye (Davis) Goings. He graduated from Farmington High School in 1957 and immediately embarked on a career enlisting in the United States Navy.

On February 16, 1963 he married Janice Hutchins and made their homes in California, Texas, Washington, Maine, and eventually settling into the picturesque St. Mary's County, Maryland. Richard was stationed at the Patuxent Naval Air Test Station where he employed his extremely talented mechanical skills maintaining state of the art fighter jets, planes, and helicopters.

Richard was an avid outdoorsman and loved to fish, hunt, and go crabbing, a favorite pastime in Southern Maryland. He also was a skillful gardener and woodsman. After serving 21 years with the Navy, he retired as Senior Chief Petty Officer and used the opportunity to advance his education in the changing mechanical technology of aeronautics and then secured a job with (McDonnell Douglas) Boeing aircrafts. He worked with the company for 15 years upon his retirement, and in the process earning his nickname "Gunney" for his affinity toward the gun and turret aspects of the fighter planes.

Richard worked hard to provide for his wife and three children, Wendall, Todd, and Kristie and spent his later years lavishing his love and attention on his grandchildren, Adin, Hunter, Connor, Colton, Alexandra, and Coby. He was also blessed with the arrival of the first great grandchild, Devin.

He is survived by his wife of 54 years, Janice Hutchins Goings; children Wendall Goings of New York; Todd Goings of Lexington Park; Kristie Goings Sparks and son-in-law Wallace "Gator" Sparks of California; sister Andrea Goings Mantor of Augusta; 6 grandchildren; 1 great grandchild; 1 nephew and 2 nieces. He was predeceased by his parents and one nephew. The family would like to thank and extend their gratitude to the exceptional medical team at MedStar Georgetown for helping them through the last few months and the care, sensitivity, and humor they provided for Richard.

Family will receive friends on Thursday, February 1, 2018 from 5:00 p.m. to 7:00 p.m. with a Funeral Service at 7:00 p.m. at Brinsfield Funeral Home, P.A., 22955 Hollywood Road, Leonardtown, MD 20650. In lieu of flowers the family requests donations should be made to Wounded Warriors Project (www.woundedwarriorsproject.org). Arrangements by the Brinsfield Funeral Home, P.A.