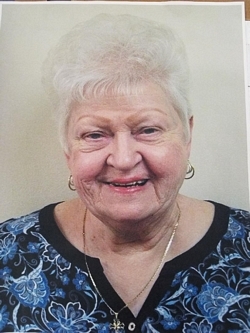 June Jacqueline Snellings, 82, of Leonardtown, Md. passed away peacefully on January 22, 2018 at The Hospice House in Callaway, Md. June was a resident at Cedar Lane Senior Living Apartments in Leonardtown. Born March 2, 1935 in Washington, DC, she was the daughter of the late Louis Webster Bridgett and Myrtle Marie Langley Bridgett.

She is preceded in death by her husband of 30 years, Eugene Lee Snellings; Grandson, Charles Albert Payne III; and siblings Shirley Caspar, Woodrow Bridgett, Edward Bridgett, Patrick Bridgett, Francis Bridgett, Leonard Bridgett, and James Bridgett.

June is survived by her children Benny Budd (Joni) of Mechanicsville, Md.; Brenda Budd of Waldorf, Md.; Barbara Payne (Charles) of Sims, NC; Tina King (Vergil) of Forest City, NC; Gina Suite (Richard "Mike") of Chaptico, Md.; and two step-daughters, Theresa McKamey and Cheryl Gross, both of Florida. In addition to her children, she is also survived by her sister, Doris Young of Lake Worth, Florida, many nieces, nephews and close friends. June had 18 Grandchildren and 18 Great-Grandchildren whom she loved and adored.

A funeral mass is scheduled for 11:00 am on February 10, 2018 with Reverend Anthony Lickteig officiating the service at Sacred Heart Church 23080 Maddox Rd, Bushwood, MD 20618. A celebration of June's life will immediately follow in the church hall. A private service will be held at Cheltenham Veterans Cemetery, 11301 Crain Highway, Cheltenham, MD 20623 at a later date. Contributions can be made to the Hospice House in Callaway 44724 Hospice Lane, Callaway, MD 20620.