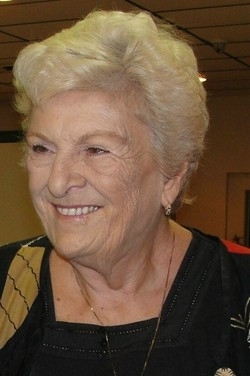 Of Hollywood, MD went home to the Lord on January 17, 2018, at MedStar St. Mary's Hospital in Leonardtown, MD with her family by her side. Born in Washington, DC, on May 29, 1939 she was the daughter of the late Gerard M. and Catherine M. Guyther. She is survived by her beloved husband of 50 years Jimmy P. Neal; her children: William R. Gardner, Jr. (Christine), Thomas E. Gardner (Donna); Son-in-Law James Cain; Step-Sons: David and Mark Neal; Grandchildren: Tiffany Mitsouras (Nicholas), Brandon Gardner, William Gardner III, Adam Cain, Michael, Matthew (Jennifer) and Mark Neal, as well as William (Tracy) and Benjamin Harding.

In addition she is survived by her great and great-great grandchildren. She is also survived by her sisters: Catherine Sabo, Hollywood, MD, Theresa Fogle (Michael) Frederick, MD, Joan Guyther, Burtonsville, MD, and brother, Gerard Guyther, Jr., Bessemer City, NC; one uncle, many nieces, nephews, cousins and close friends. She was preceded in death by her beloved daughter Martha Ann Cain.

Martha attended Holy Name Academy HS, the University of Maryland, and completed her Doctorate with George Washington University. She held positions in the finance industry and with the Prince George County Police Department before entering the Federal Government in 1974, spending her 28 year career with the Department of Defense. She held certifications in Acquisition Professional and Program Management and Acquisition Logistics. She was a Professor for on-line education with UMUC for the past 10 years in Supply Chain Management and Logistics.

Martha joined the Kentland Fire Dept. Auxiliary in January 1963. She held various positions in the Auxiliary. She served as President for several terms. After being elected Historian of the Ladies Auxiliary of Prince George Volunteer Fire and Rescue Association, she advanced through the chairs and was the Fiftieth President in 1982/83. During her term of office, the Fire and Science Student Aid Committee was initiated. She was inducted into the Hall of Fame in 1985. The Convention Book was dedicated to her in 2001. She was active with the Maryland State Firemen's Association since 1964. She served on many committees and was the current Chairman of the Bessie Marshall Committee. Martha enjoyed RV camping, playing games, crocheting, reading and spending time with family, especially by the pool.

The family will receive friends at Brinsfield Funeral Home, 30195 Three Notch Rd, Charlotte Hall, MD on Sunday, January 21, from 2-4 p.m. and 6-8 p.m. A Mass of Christian burial will be held on Monday, January 22, 2018, at 10 a.m. at St. John Francis Regis Church, 43950 St. Johns Road, Hollywood, MD. Interment will follow at Fort Lincoln Cemetery, 3401 Bladensburg Rd., Brentwood, MD. In lieu of flowers, contributions in her memory may be made to the National Ovarian Cancer Coalition, 3800 Maple Ave., Suite 435, Dallas, TX 75219 or donations may be made at www.ovarian.org. Arrangements by Brinsfield Funeral Home, P.A.