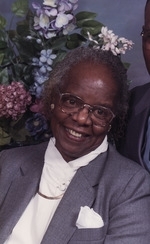 Eliza Catherine Mason was born on October, 9, 1932 to James and Nellie Miles. She departed this life on Saturday, January 13, 2018 after a brief illness. On September 2, 1951, she married her 'Best Friend', Harry F. Mason, at Our Lady's Chapel in Medley's Neck. Maryland.

Catherine received her formal education at the Old Mechanicsville 1 Room School. But her education didn't stop there. She learned, shared and taught life lessons daily to those around her. Catherine was a very active member of St. Aloysius Catholic Church serving as lectionary, confirmation sponsor and on various other committees. She was definitely a woman after God's own heart.

Catherine had a heart and penchant for love and family that was as big and bright as her beautiful smile. Catherine never knew a stranger and was loved by all who were blessed to be in her presence. Throughout her life she served in many positions and all had a way of making someone else's life better. She assisted the Weiner Family for many years, nurturing and caring for 3 Generations of children.

Catherine was well known for her seamstress abilities and often consulted members of the Technical Center sewing classes on how to make or remake patterns. She also made several Prom and Homecoming dresses for her nieces and other family members. She kept her home and yard beautiful by filling both with the flowers she had grown. Catherine has over the years collected salt and pepper shakers too numerous to count. Once in a while she would laugh and mention that when she took them out for cleaning, she had a hard time getting them back in the curio cabinets.

Along with her husband Harry, she was a boater and an avid fisherwoman. She also served as a Member of the Big Foot Hunting Club Helper group which was in direct relation to the Big Foot Hunting Club to which Harry belonged. They could also be found traveling from St. Mary's to other parts of Maryland to engage in a friendly card. Their games of Pinochle, Bid Whist or Pitch often lasted into the wee hours of the morning or the early part of the next day. During these games instead of using chips they often used the pink seed corn to track their winning hands.

Catherine is preceded in death by her parents, James and Nellie Miles; her in-laws, Harrison and Mary Mason; her brother Randolph Curtis; her sister, Nancy Ann Theresa Fantroy, Nellie Cecelia Miles Warren; sisters-in-law, Gertrude Curtis, Louise Mason (Oscar), Louise Mason (James), Marie Mason, Patricia Miles, and Della Watts; brothers-in-law, Ralph Clayton, Jesse DeLeaver, Andrew Lawrence, Hampton Mason, James Mason, Joseph Mason, Oscar Mason, Walter Mason, Sr., William Mason, Joseph Milburn, Sr. Earl Thorne and Gilbert Watts.

Catherine is survived by her Best Friend and husband of 66 years, Harry F. Mason. Her brothers, James Miles of Great Mills, MD; Charles H. Miles of North Carolina; John Louis Miles (Thyris) of Mechanicsville, MD; her sis ters, Laura Frederick of Great Mills, MD and Arline Evans of Mechanicsville, MD, her Sisters-in-law, Sarah Milburn, Alberta Campbell, Idella DeLeaver, Veronica Thorne and Nellie Clayton and her Aunt Artina Miles of Mechanicsville, MD. Catherine is, also, survived by her Godchildren; Tia Bush, Denise Fantroy, Sheila Milburn, Christine Thorne-Sims, and Ricky Warren. In addition, she leaves a host of family and friends that will continue to love and cherish memories of her.

The family will receive friends on Monday, January 22, 2018 from 9:30 AM-10:00 AM in St. Aloysius Catholic Church in Leonardtown, MD. Where a Mass of Christian Burial will be celebrated at 11:00 AM with Father David Beaubien officiating. Interment will follow in Charles Memorial Gardens Leonardtown, MD. Arrangements by Mattingley-Gardiner Funeral home.