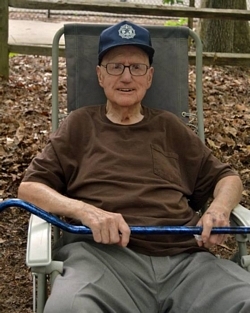 Roy "Jack" Dempsey Meadows, 90, of Charlotte Hall, MD passed away on January 15, 2018 at the University of MD Charles Regional Medical Ctr. in LaPlata, MD. Born on September 22, 1927 in West Virginia to the late Ward Meadows and the late Edith Meadows.

Jack is also predeceased by his wife, Theresa Meadows; son, Roy D. Meadows; daughter, Carol Meadows; and brothers, Delbert and Delmar Meadows. He is survived by his son, Curtis Meadows (Sharon); daughters, Joan Ray, Diane Jones (John) and Mary Trammell (Harold Manis); 14 grandchildren; 35 great-grandchildren; and 5 great-great grandchildren.

Roy served in the U.S. Army in WWII. He was employed as a truck driver. Roy enjoyed playing cards, horseshoes and going to turkey shoots. He loved telling war stories to his grandchildren and sharing jokes with his friends and family.

Visitation will be held from 2:00-4:00PM and from 5:30-8:00PM on Tuesday, January 23, 2018 at Arehart-Echols Funeral Home, PA (211 St. Mary's Ave., La Plata, MD) with a Funeral Service starting at 6:00PM; Interment will be held at 11:00AM on Wednesday, January 31, 2018 at MD Veteran's Cemetery (11301 Crain Hwy., Cheltenham, MD). Arrangements by Arehart-Echols Funeral Home.