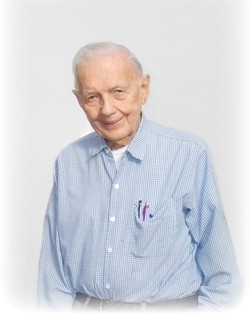 Warren Ernest Frank, 92, of Leonardtown, MD passed away peacefully on January 15, 2018 at his home with his beloved wife at his side. He was born on June 4, 1925 in Grand Island, NE to the late Ernest William Frank and Louise Kimberly Hatch.

Mr. Frank enlisted in the Army at the age of 18 during World War II and served in Austria, Germany and France. He then graduated from University of Colorado Boulder and in 1947 he began his career with the CIA. He became an expert in espionage, counterintelligence and covert action. He was a significant participant in the peaceful resolution of the Cuban Missile crisis. He later served as Deputy Station Chief in Germany and as Station Chief in Indonesia.

He received the Intelligence Medal of Merit for especially meritorious service or an act conspicuously above normal duties which has contributed significantly to the mission of the Agency'. He retired in 1985. Since 1979 to the present he has been the owner of Potomac Self Storage in Lexington Park, MD. After retiring from the government he continued to travel extensively and spent several months a year living in the Philippines.

On November 14, 1996 he married Anna K. Riihela in Falls Church, VA. Together they celebrated over 21 wonderful years of marriage. In 2003 he moved to Southern Maryland to live on the water, where he enjoyed watching beautiful sunsets. He was an avid reader, especially enjoying history and foreign policy. He was a loving family man and a devoted grandfather. He always stressed the importance of a good education to his grandchildren. He was a member of St. George's Episcopal Church.

In addition to his beloved wife, he is survived by his children: Monica L. Frank of Frankfurt, Germany, Christina A. Frank (Lawrence Hughes) of Manassas, VA, and Martin E. Frank of Naples, FL; his grandchildren: Kiana Frank, Julia Frank, Amber Frank, Lauren Hughes, and Alexander Hughes; and many extended family and friends. In addition to his parents, he is also preceded in death by his brother, Homer Frank.

A Funeral Service will be celebrated by Reverend Greg Syler on Thursday, January 25, 2018 at 11:00 a.m. at St. George's Episcopal Church, 19167 Poplar Hill Lane Valley Lee, MD 20692. Interment will follow in the church cemetery. Serving as pallbearers will be Donnie Gantt, Alexander Hughes, Laurence Hughes, Martin Frank, Andreison Palana, Joseph Brown and Joseph Augello. Memorial contributions may be made to the USO or the American Cancer Society. Arrangements by the Brinsfield Funeral Home, P.A.