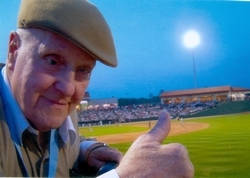 Arvel "D-Dad" Clark, Jr., 83 of La Plata, MD passed away on January 15, 2018 at Sagepoint Senior Living Ctr. in LaPlata, MD. Born in Kentucky on September 3, 1934 to the late Arvel B. Clark, Sr. and the late Ella Beatrice Clark, Arvel is also preceded in death by his loving wife, Helen Clark; and son, Chris Clark.

He leaves behind to cherish his memory his daughters, Denise Hall (Kirby), Stephanie Potter (Mark) and Allison Macauley (Jeff); son, Bernie Clark (Lori); daughter-in-law, Teresa Clark; brother, Keenus Clark; sister, Shirley Anastasi; 20 grandchildren and 18 great-grandchildren.

Arvel was a self-employed printer. He loved his grandchildren and his work. Arvel enjoyed traveling the world as a printing consultant and helping others through AA. He will be missed by all who knew him.

Visitation will be held at Arehart-Echols Funeral Home, PA (211 St. Mary's Ave., La Plata, MD) on Friday January 19, 2018 from 5 to 8 PM. A Funeral Service will be held at Grace Lutheran Church (1200 Charles St., La Plata, MD) on Saturday January 20, 2018 at 11 AM. Interment to follow in the Resurrection Cemetery (8000 Woodyard Rd. Clinton, MD). In lieu of flowers, donations can be made in Arvel's memory to The J.P. House P.O. Box 584 La Plata, MD 20646. Arrangements by Arehart-Echols Funeral Home.