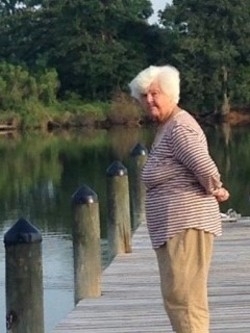 Florence Susanna Ridgell Wolf, 85, of Scotland, MD passed away peacefully at her home on January 11, 2018 surrounded by loved ones. Born October 17, 1932 Cecilia King Ridgell and Joseph Austin Ridgell. Susanna, as she was known by family and friends, was married to the late Charles F. Wolf Jr., and they had one son, Charles F. "Bucky" Wolf, III (Shirley Wolf) of Somerset, Kentucky. She was born in a family of 10 siblings: Catherine Dean (Scotland, MD), Clara Norris (Leonardtown, MD), Eleanor Tippett (Francis) (Leonardtown, MD) and preceded in death by siblings Gregory "Brother" Thomas Ridgell, James "Gus" Austin Ridgell, George Frederick Ridgell, Leslie "Country" Curtis Ridgell, Cecilia "Flip" Titus and Grace Elder Pratt.

She attended St. Michael's School for 12 years where she attended weekly mass and was a devout Catholic. She dedicated 10 years of service to St. Mary's College, she was a Knights of Columbus Belle and volunteered at several organizations within her community. Susanna bragged largely about her son's talented artwork and had a huge affection for her precious cat, Baby. She would love to play cards and spend time picking asparagus in her asparagus patch.

Farming was her life as well as living by the water. She enjoyed tremendously being on the wharf crabbing, fishing, playing bingo and was a hard worker helping to plow fields and raise livestock. She welcomed everyone she met, especially those who shared in joy with her, time on the water and hunting. She loved the neighborhood children who would ride their bikes to come visit her along with 3 children very dear to her that she called her "adopted grandchildren", Alex, Landon and Robert. She will be dearly missed by all who knew her and will forever be held in the hearts of all the lives she touched.

A Life Celebration and Catholic Mass will be held on January 20, 2018 at 10:00am at St. Michael's Catholic Church, 16566 Three Notch Road, Ridge, MD 20680. Interment to follow will be private. In lieu of flowers, donations can be made to Hospice of St. Mary's, P.O. Box 625, Leonardtown, MD 20650 or St. Michael's School, P.O. Box 259, Ridge, MD 20680. Arrangements by the Brinsfield Funeral Home, P.A.