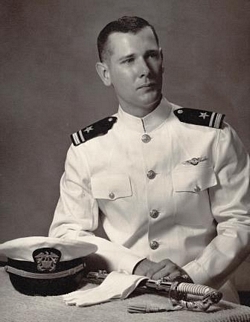 Andrew Pickens Miller Jr. was born on July 23, 1938 and passed away peacefully on January 9, 2018. He was the eldest son of Andrew and Gertrude Miller from Leesburg, Florida. While both studying at Emory University, he met his wife to be, Betty Jean Myers. Andrew was a passionate lifelong sail boater, deeply interested in United States and world history, and a generous supporter of the arts. He served for nearly eight years on the vestry of Middleham & St. Peter's Parish of the Episcopal Diocese of Maryland.

Andrew graduated from Emory University with a BS in Physics and a MBA. He began his Navy career in 1962, and was a member of the very first A-6A Intruder aircraft squadron, VA-75 "Sunday Punchers", as a bombardier/navigator. He deployed with VA-75 on the carrier USS Independence during the Vietnam War when they were the first squadron to utilize the A-6 Intruder in combat. He then graduated from United States Navy Test Pilot School Class 48 and completed a 24-year long career full of assignments to both testing & operational squadrons at NAS Patuxent River, NAS Oceana, and Naval Air Weapons Station China Lake employing all models of the A-6 and other aircraft, and a return to the USS Independence for a ship's company tour. He is a graduate of the Naval War College. Upon his military retirement, he then worked in the civil service for Naval Air Systems Command for 30 years until his passing.

Andrew is survived by his wife of 57 years, Betty Myers Miller, along with two sons, James Ross and wife Jennifer of Union Grove, NC, and Andrew Peter and wife Gosia Nowakowska-Miller of Washington, DC, and two grandchildren, Alexandrea of Richmond, VA, and Zackary of Union Grove, NC. He also survived by his brother Charles G. Miller and wife Diane of Leesburg, FL.

A memorial service will be held at 2:00 pm on Friday, January 19th, 2018 at the Great Hall of Middleham & St Peter's Parish at 10210 H.G. Trueman Road, Lusby, MD 20657, with the Fr. David Showers presiding. His final place of rest will be at the Zion Baptist Church cemetery, 714 Union Grove Road, Union Grove, NC 28689, at 2:00 pm on Saturday, February 17th, 2018.

In lieu of flowers, memorial gifts in Mr. Miller's memory can be made to the Multiple Myeloma Research Foundation, 383 Main Avenue, 5th Floor, Norwalk, CT 06851 (online at https://www.themmrf.org/donate-to-mmrf) or via donations to the "Building Fund" for the preservation of the historic St Peter's Chapel built in 1889 on Solomons Island, MD (http://www.middlehamandstpeters.org). Arrangements by Rausch Funeral Home.