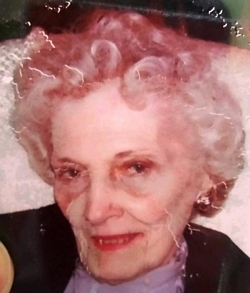 Yolanda Rose Tippery, 97, of Chesapeake Beach, MD passed away on January 12, 2018 in Lusby, MD. Yolanda was born on March 12, 1920 in New York, New York to Silvano and Elvira Di Lesia Del Plato. She had lived in Maryland since 1955. Yolanda was a homemaker who enjoyed watching tv, cooking and sewing.

She is survived by her son, Dale Tippery, Jr. (Carol) of Silver Spring, MD; daughter, Judy White (Buddy Anderson) of Chesapeake Beach, MD; five grandchildren, Robert and Christopher Tippery and Jason, Matthew and Zachary White and seven great-grandchildren, Rebecca and Deven Wiles, Hope and Aidan Tippery, Kayleigh and Skylar White and Dominic Neagle. Her husband of 71 years, Dale Tippery, Sr. and infant son, Allen Wayne Tippery, predeceased her.

The family would like to extend a special thank you to Vicky Park for all the years she put her life "on hold" to care for both Yolanda and Dale, Sr. She is a remarkable woman and is loved by all of us. Arrangements by Raymond Wood Funeral Home.