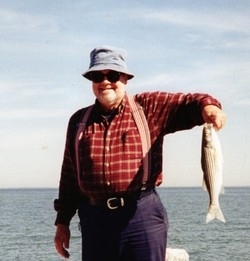 Arthur Gerald "Jerry" den Hartog, 87, of Prince Frederick, MD, passed away on January 8, 2018 at home surrounded by family. Arthur was born on January 18, 1930 in Washington, DC to the late Arthur Hyman den Hartog and Edith E. Hubbard den Hartog.

Arthur married the love of his life, Ethel P. "Becky" den Hartog on March 4, 1949. Together they celebrated 68 years. He served in the United States Navy for six years. He was employed with the Federal Government as a Printing Supervisor with the Department of Transportation for 35 years. He retired and stayed in Beltsville, MD until moving to southern Maryland in 2000. Arthur enjoyed watching and cheering on the Baltimore Orioles, the Indianapolis Colts and later the Baltimore Ravens. He also enjoyed spending time with his family, fishing, gardening, watching western movies and working on cars.

Arthur is survived by his children, Arthur Gerald, Jr. and Kathleen den Hartog, of St. Inigoes, MD, Gary Gregg "Clancy" and Tamiko den Hartog, of St. Inigoes, MD, Sally Jan den Hartog, of St. Leonard, MD, Beth and Richard Livingston, of Edgewater, MD, and sister, Shirley Jean Lease, of Charlotte Hall, MD, six grandchildren, four great grandchildren, and one great-great grandchild. He is preceded in death by his loving wife, Ethel den Hartog (4/15/17) and grandson, Joseph.

A Visitation will be held on Saturday, January 13, 2018 from 2:00 to 5:00 p.m., with prayers recited at 4:00 p.m., at Brinsfield Funeral Home, 22955 Hollywood Road, Leonardtown, MD 20650. A Graveside Service for family will be held on January 18, 2018 at 1:00 p.m. at Crownsville Veterans Cemetery, 1080 Sunrise Beach Road, Crownsville, MD 21032. Memorial contributions may be made to the American Legion, Post 217, 9218 Baltimore Avenue, College Park, MD 20740. Arrangements by the Brinsfield Funeral Home, P.A.