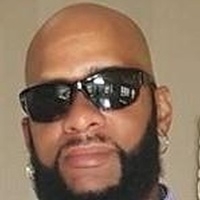 Delvan Kernel Dorsey (Age 44) of Waldorf, Maryland. Mr. Delvan Dorsey, age 44, died at his home in Waldorf, Maryland on Thursday, January 11, 2018. He was surrounded by family as he prepared his way home to the Lord. Born on November 13, 1973 in La Plata, Maryland, he grew up in Newburg, before settling in Waldorf.

He worked for Prince George's County School system until the time he fell ill. Delvan was the president of the Skilz Motor Cycle Club. He loved cooking, working out, talking smack to everyone he encountered. If you ever debated with him you were sure to lose. He was known as the prettiest mechanic around and he made sure you knew it.

Survivors include his mother Agatha Dorsey, wife Carrie Dorsey, children Alexa, Tiara, Jayda, Delvan "Preston", and Tristian Dorsey, sister Shay Hayes, and brother Frank Roland Hayes Jr. Delvan was preceded in death by his Father Frank Roland Hayer Sr., Grandparents Joseph Preston & Catherine Inez Dorsey, Frank & Lillian Hayes, brother Steven Hayes, son Delvan Kernel Dorsey Jr.

Viewing, 2:00 pm until time of Service, 4:00 pm, Saturday, January 13, 2018 in the Chapel of Thornton Funeral Home, P.A., 3439 Livingston Road, Indian Head, MD 20640. Arrangements by Thornton Funeral Home.