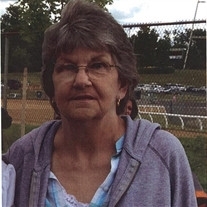 Betty Ann Brown, age 68, of Welcome, Maryland (formerly of Waldorf, Maryland) died January 8, 2018 at her residence with Hospice.

Betty was a Deli Manager for 40 plus years with Giant Food Stores (mostly at the Waldorf store) and was of the Catholic faith. She loved gardening and plants and was a member of bowling leagues. She especially enjoyed being with her grand kids and family.

She was the daughter of Robert E. Burgess and Betty Lewis Pappas Burgess. In addition to her parents, she was also predeceased by her husband, Raymond T. Brown. She is survived by her son, Artie A. Landry (Kelly); her daughter, Vicki Conyers (Craig); and her grandchildren, Jennifer, Amanda, Kristen, and Kailey.

Funeral Services and Interment at Ft. Lincoln Cemetery (Brentwood, Maryland) will be at a later date. Memorial contributions in Betty's name may be sent to Hospice of Charles County, 2505 Davis Road, Waldorf, Maryland 20603. Arrangements by Raymond Funeral Service.