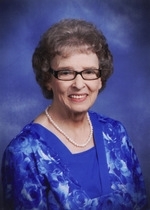 Barbara Jean "Dolly" Davidson died Thursday, January 4, 2018 at Georgetown University Hospital in Washington DC. She was 88 years old.

Mrs. Davidson came to St. Mary's County with her husband, the late Theron "T" Davidson, in 1951. Recognizing the need for summer activities for the growing population of children coming to St. Mary's with parents stations at Patuxent Naval Air Station, Mr. and Mrs. Davidson founded a summer Bible camp on the banks of the St. Mary's River. The following year to the shores of Green Holly Pond off Rue Purchase Road and would eventually evolve into SAYSF (Seek and Ye Shall Find) Bible Church.

A graduate of the State University of New York, Oneonta and an accomplished musician, Mrs. Davidson taught first grade at the Frank Knox School in Lexington Park, served on the Board of the Center for Life Enrichment, volunteered with the Navy Marine Corp Relief Society, acted as a docent at Historic St. Mary's City, ran the SAYSF Bible church office and music ministries, and taught music classes at the Lexington Park Christian School - now King's Christian Academy.

In September of 1977, Mrs. Davidson joined the Lexington Park Volunteer Rescue Squad. During her 40 years of service there she was a pioneer for women, serving in every administrative office of the department including two stints as president and Chair of the Board of Directors. Mrs. Davidson was part of the leadership team at LPVRS that oversaw two fleet expansions, renovation of the old Great Mills Road station, acquisition of property for and construction of the Buck Hewitt Road Station and a restructuring of the leadership team itself. She was also a very active running member, being a top five responder for over 20 years.

Mrs. Davidson was preceded in death by her parents, Gould M. and Dorothy D. Brown, her husband, Theron W. "T" Davidson and her son, Mark T. Davidson, all of Lexington Park. She is survived by her son, Kim A. Davidson and his wife Patricia; her grandson Shawn A. Davidson and his husband Michael Cahall, their sons Blair and Marcus; her granddaughter Shari Arends and her husband David, their sons Zachary, Tyler and Caleb, all of Lexington Park as well as cousins, nieces and nephews throughout the United States.

The family will receive visitors at SAYSF Bible Church at 46544 Rue Purchase Road, Lexington Park on Thursday, January 11, 2018 from five to seven in the evening with a memorial service including EMS prayers at seven o'clock. Her funeral will be at SAYSF Bible Church on Friday, January 12, 2018 at ten in the morning with interment to follow at Charles Memorial Gardens in Leonardtown.

The family would like to express deep appreciation to the staff at MedStar St. Mary's Hospital and MedStar Georgetown University Hospital for their kindness and professional care during Gram's final illness. Thank you all for your warmth and understanding. In lieu of flowers, the family asks that memorial donations be made to the Lexington Park Volunteer Rescue Squad or SAYSF Bible Church. Arrangements by Mattingley-Gardiner Funeral Home.