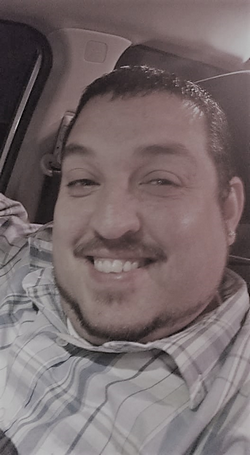 Lloyd "Lloydie" Scott Collins, age 37, passed away January 3, 2018 in Hattiesburg, MS. Lloyd was born on July 17, 1980 in La Plata, Md. to his parents, Harold Collins, Sr. and Brenda "Faye" Collins.

Lloyd was a very loving, fun person who would do anything to make a person laugh. He welcomed everyone with loving arms and kind words. He made friends wherever he went and you were sure to have a good time in his presence. He enjoyed singing, dancing, fishing and spending time with his family, especially his daughter.

In addition to his parents, Lloyd is survived by his wife Patricia Graff Collins; son, Jayden Perkins; daughter, Kamalyn Graff; brothers, Harold "Junior" Collins (Willow) and Carl "CW" Collins (Kitt); sisters, Brenda "Rosie" Chapman (Craig) and Maggie Collins; Nieces, Jessica Murphy, Mychaela Collins, Alexis Collins, Carrie Chapman, and Caitlyn Chapman; Nephews, Austin Collins, Ray Johnson, Nick Collins, Kyle Hager, Brent Lowe, Glenn Hunter, and Elijah Perkins; and a host of aunts, uncles, cousins, great nieces and nephews, as well as other relatives and friends. He is preceded in death by his grandparents, Roosevelt Collins, Maggie Collins and Della Bone.

A memorial will be held on Saturday January 13, 2018 at First Baptist Church, 6735 Port Tobacco Road, La Plata, MD 20646. Visitation will be from 12-1 with Services starting at 1pm. All are welcome to attend and celebrate Lloyd's life. Memorial donations may be made directly to Carl Collins who will be establishing a trust for his two children, Jayden Perkins and Kamalyn Graff.