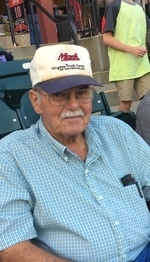 John Judson Alvey, 68, of Clements, MD passed away on January 6, 2018 surrounded by his loving family. Born on July 18, 1949 he was the son of the late James Francis Alvey and Margaret Ann (Mattingly) Alvey. Judson was a devoted husband to Barbara Jean (St.Clair) Alvey whom he married on Ocotber 10, 1971. Judson was a lifelong farmer working on the family hog and tobacco farm with his brother, Bernard Allen (Jackie) Alvey. Judson also enjoyed his work as a truck driver, most recently working for Bowles Farms.

Judson was actively involved in the young men's softball league in his younger years coaching the Miller High Life team. He made many close friends during this time and treasured the memories. Judson was inducted into the St, Mary's County Young Men's Softball League Hall of Fame on October 22, 1994. Judson also greatly enjoyed working in his garden and spending time with his family.

Judson is survived by his wife of 46 years, Barbara (St.Clair) Alvey. Children; Jay Alvey (Debbie) of Clements, MD, and Sara Pilkerton (Lee) of Clements, MD. Grandchildren; Cora Pilkerton and Carson Pilkerton. Siblings; Bernard Allen (Jackie) Alvey (Donie) of Clements, MD, Sara Jane Guy of Avenue, MD, and Margaret Rita Cullins (Bernard) of Bushwood, MD. In addition to his parents, Judson was preceded in death by his brother in law Frankie Guy.

The family will receive friends on Tuesday, January 9, 2018 from 5:00 PM-8:00 PM in the Mattingley-Gardiner funeral home chapel with prayers recited at 7:00 PM. A Mass of Christian burial will be celebrated on Wednesday, January 10, 2018 at 10:00 AM in St. Joseph's Catholic Church in Morganza, MD with Father Drew Royals officiating. Interment will follow in Charles Memorial Gardens Leonardtown, MD.

Pall bearers will be Darren Alvey, Shawn Alvey, Troy Alvey, Michael Hayden, George Hayden, Gary Long, Glenn Cullins and Allen Alvey. Honorary pall bearers will be Tommy and Tina Bowles and the entire staff of Bowles farms. In lieu of flowers, the family request that donations in Memory of Judson be made to the Seventh District Rescue Squad, PO Box 206, Avenue, MD 20909 and/or Hospice of St. Mary's, PO Box 625, Leonardtown, MD 20650. Arrangements by Mattingley-Gardiner Funeral Home.