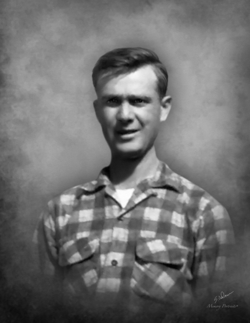 Reden "Jeff" Jasper Yeomans, 86, of Waldorf, MD passed away New Year's Eve, December 31, 2017. Jeff was born in Collins, Georgia to the late Lelan Yeomans and the late Mae Belle Yeomans Fanning. In addition to his parents, Jeff was predeceased by his brothers, Dave Yeomans, Willie Yeomans ,George Yeomans; his loving daughter, Mary Susan Yeomans; his dear grandson, John A. Beach, Jr.

Jeff is survived by his loving wife, Virginia A. Yeomans of 63 years of Waldorf, MD; daughters, Kathy Ann Beach of Waldorf, MD, Lori Ann Morris (David) of Dameron, MD; grandchildren, Jeff Beach (Janelle) of Bowie, MD, Richard Beach (Lindsey) of St. Pauls, NC, Suzanne M. Copeland of Lexington Park, MD, Davey Morris of California, MD, Caitlynn Morris of Dameron, MD, Peyton Morris of Dameron, MD and great grandson, Jake Copeland of Lexington Park, MD.

Jeff loved the outdoors, fishing, gardening, outdoor grilling, traveling, the Redskins and working on cars. Jeff was a loving husband and wonderful family man who was very proud of his girls and his grandchildren. After serving 35 years at D.C. Wastewater Treatment Plant Blue Plains, Washington, DC, Jeff retired in 1994.

Family will receive friends for Jeff's Life Celebration visitation on Monday, January 8, 2018 from 5pm to 8pm. Funeral Services will be on Tuesday, January 9, 2018 at 12pm followed with Interment at Trinity Memorial Gardens, 3221 Mattawoman Beantown Road, Waldorf, MD. Arrangements by Brinsfield Funeral Home.