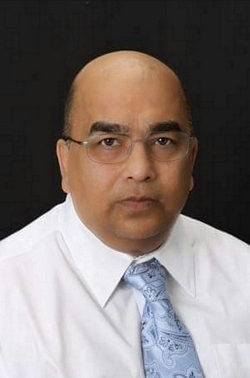 Ashok Michael Kumar Agarwal, 63, of Huntingtown passed away January 1, 2018. He was born September 19, 1954 in Hyderabad, India to Poonamchand and Bhagirathi (Gupta) Agarwal. Ashok graduated from Osmania University in Hyderabad with a Bachelor's Degree in Basic Engineering. He moved to the United States in December of 1977 and proudly became a citizen on June 15, 2007.

Ashok graduated from the University of Tennessee with a Master's of Science Degree in Polymer Engineering, the University of Illinois at Urbana-Champaign with a Master's of Engineering Degree in Material Engineering and Metallurgy and George Washington University with a Master's of Science Degree in Engineering Management and Systems Engineering. He later continued his studies at Stanford University.

Ashok married Nancy Lee Zerbe on January 15, 1999. He was the founder and president of the American Association of Big Data Professionals and an adjunct professor at Georgetown University. He was also a member of the Knights of Columbus as well as many other professional associations. Ashok was an accomplished painter and was awarded by Indira Gandhi for his outstanding artwork. He was also a highly ranked tennis player in his 20's. Ashok loved baseball and dogs and was an avid fan on the Washington Nationals. Ashok will be remembered as a very intelligent, friendly and enthusiastic person who was always laughing and talking.

Ashok is survived by his wife Nancy Lee Agarwal of Huntingtown, one grandchild, his mother Bhagirathi Agarwal, sisters Suneeta Maheshwari and husband Anil of Fairfax Station, VA and Renu Gupta of Hyderabad, India, brothers Shishir Agarwal of Hyderabad, India and Vijay Agarwal and numerous nieces and nephews. Arrangements by Rausch Funeral Home.