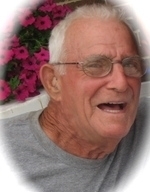 John Benjamin Padgett Jr., "Jack", 89, of Leonardtown, MD formerly of Clinton, MD passed away on January 1, 2018 in Leonardtown, MD. Born November 13, 1928 in Clinton, MD, he was the son of the late Mable Gertrude Tayman Padgett and John Benjamin Padgett, Sr. He was the loving husband of the late Shirley Lee Padgett whom he married on July 3, 1953 in Camp Springs, MD and who preceded him in death on August 18, 2017.

He is also survived by his children: John Padgett, III (Gayle) of Compton, MD and Tracey Kelly (Robert) of Hollywood, MD, 6 grandchildren and 4 great-grandchildren. As well as his sisters; Bea Farrell of Colton's Point, MD, and Roberta Taylor of Leonardtown, MD. He was preceded in death by his sister Inez Lusby of MD.

He moved to St. Mary's County in 2007 from Clinton, MD. Jack served in the United States Army from September 17, 1947 to September 2, 1952. While in the United States Army he served in the Korean War. He was a police officer for the Prince Georges County Police Department. Jack enjoyed farming, outdoors; above all he enjoyed time spent with friends and family.

The family will received friends on Monday, January 8, 2018 from 10:00 AM to 11:00 AM where a Memorial Service will be held at 11:00 AM with Bishop William McClean officiating. Interment will be private. Contributions may be made to Hospice of St. Mary's, P.O. Box 625, Leonardtown, MD. Arrangements by Mattingley-Gardiner Funeral Home.