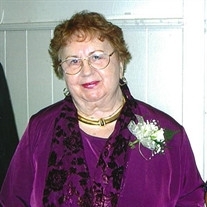 Eugenia Dimirievna Andreeff, age 92 of La Plata, Maryland died January 2, 2018 at her residence with Hospice. Eugenia was a homemaker and was a member of St. John The Baptist Church in Washington, DC. She loved dancing, especially clogging with a group from Charles County Senior Center. She also loved horror movies, jewelry,and shopping.

She was the daughter of Dimitry I. Popov and Maria A. Shnur Popov. In addition to her parents, she was also predeceased by her husband, Victor I. Andreeff and her sisters, Raissa Cole and Zoya Pertino. She is survived by her son, Alexander V. Andreeff (Virginia) and her daughter, Tania V. Andreeff.

Friends received on Monday, January 8, 2018 at 6PM and where Mass will be held on Tuesday, January 9, 2017 at 10:30AM at St. John the Baptist Church, 4001 17th Street, NW, Washington, DC 20011. Interment to follow at Rock Creek Cemetery, Rock Creek Church Road and Webster Street, Washington, DC 20011. Memorial contributions in Eugenia's name are asked to Hospice of Charles County, 2505 Davis Road, Waldorf, Maryland 20603. Arrangements by Raymond Funeral Service.