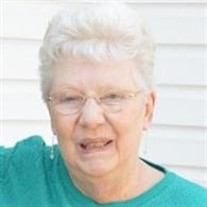 Lucia Polly Beeler, age 81, of White Plains, Maryland, died January 1, 2018 at the University of Maryland Charles Regional Medical Center in La Plata, Maryland. Lucia was a Procurement Specialist for 20 years with the Census Bureau. She loved to dance, the ocean, ceramics, reading, cross words, and crocheting. She especially loved spending time with family and playing with her grandchildren and great-grandsons.

She was the daughter of Howard Winthrop Kinports and Mildred Evelyn Allison Kinports. In addition to her parents, she was also predeceased by her husband, Duane Archie Beeler. She is survived by her children, Dawn Beeler Medley and David Beeler (Madeline); her grandchildren, RJ Williams, Mark Holl, Sean Medley, Kaytlin Medley, and Nick Beeler; and her great grandchildren, Trey and Tanner Williams; her sister, Nancy Shaw, and her brothers, Win, Richard, Robert Kinports.

Friends will be received on Friday, January 26, 2018 from 10AM until time of Funeral Service at 11AM at Grace Lutheran Church, 1200 Charles Street, La Plata, Maryland 20646. FAMILY HAS REQUESTED NO FLOWERS OR GIFTS. In lieu of flowers, memorial donations in Lucia's name may be sent to a cancer research organization of your choice. Arrangements by Raymond Funeral Service.