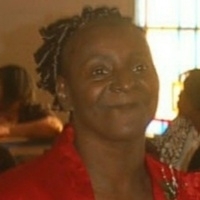 On Saturday, December 30, 2017, Colette Elizabeth Muschette suddenly transitioned from this life to one eternal at her residence. Colette Elizabeth Muschette was born, October 3, 1963 to Martin and the late Regina Muschette in La Plata, Maryland. She lived in Pomfret, Maryland all her life. She worked at Bojangles until she succumbed to her illness. She graduated from McDonough High School and enjoyed playing all sports. She enjoyed spending time with family and friends. As well as taking pictures with her loved ones and friends.

In addition to her mother, Regina Muschette she is preceded in death by her brothers, Martin Muschette Jr., Adrian Muschette and James Muschette; nieces, Andrea "Miss Annie" and Josette Bowman. She leaves to cherish her memory, her father Martin Muschette, Sr.; children, Carolyn Muschette (Damion Ward), Alicia Pinkney (Donald Pinkney), Eric Muschette, Michelle Muschette (Wayne Henry), and Andrea Muschette (Joseph Stone); grandchildren, Andrew Bowen, Izaih Ransome, Mary Briscoe, Deja Hancock, Dominique Hancock Jr., Martiez Briscoe, Joseph Stone Jr., Journi Henry, Eric Lamont Muschette Jr., April Pinkney and Donald Pinkney Jr.; great grandchildren, Kyiann and Wendell Pinkney; siblings, Carolyn Bowman (John), Patricia Bowman (David), Lawrence Muschette and Wayne Muschette (Annette); beloved friends, Tina Hagens and Tina Chisley and a host of relatives and friends.

Viewing will be held from 10:00am until Mass of Christian Burial 12:00noon, Monday, January 8, 2018 at St. Joseph's Catholic Church, 4590 St. Joseph's Way, Pomfret, Maryland. Interment Church Cemetery. Arrangements by Thornton Funeral Home.