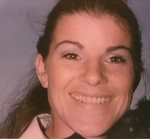 Shanda Kay Brewer "Gammy" 65, of Mechanicsville, MD formerly from Southern California passed away on December 26, 2017 in her home. Born on August 25, 1952 in Santa Barbra, CA. She was the daughter of the late Delano Ruth Faught Cheatwood and Henry Edgar Cheatwood.

Shanda is survived by her children; Jussandra Drake of Solomon's, MD, Bryan Brewer of Mechanicsville, MD, 2 grandchildren; Kaythn Diaz of Solomon's, MD and Andrea Drake of Solomon's, MD. She graduated from Ventura High School in 1969, and attended Saddleback Valley Community College. She moved from California to St. Mary's County, MD in 2002. Shanda was a training instructor for NAS Patuxent River, and Booze Allen Hamilton for 45 years. Shanda volunteered for Summerseat Farm, and St. Mary's Caring Soup Kitchen. She enjoyed gardening, and reading. She was a member of the United Nations Missions to Native American Reservations.

Shanda's granddaughter wrote a message upon hearing the news of her death; "Until now, I'd never known loss, heart break, or death. I'd give anything to hear your voice for one more second, hug you for one more minute, snuggle you for one more hour, hangout with you for one more day, travel with you for one more week, learn from you for one more month, and watch you grow for one more year. I can only remember everything now, and one thing I will never forget is you bringing me to God. I never thanked you for that but I'm sure He has. You used to tell me I had the biggest heart but no one's heart was as big as yours. You have always been so calm, patient, and loving. I can only pray to become half the woman you were. I can only imagine what a beautiful angel you make. May God have a lovely garden in heaven just for you. Rest beautifully now, my angel."

A Celebration of Life will be held on Saturday, December 30, 2017 at 10 AM in Faith Bible Church, Mechanicsville, MD with Pastor Robert Monutt. Arrangements by Mattingley-Gardiner Funeral Home.