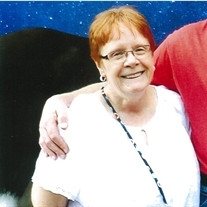 On Thursday, December 28th, Patricia "Patsy" Metzger, wife, mother, grandmother, great-grandmother, daughter, and sister, passed away at the age of 65 years from a long battle with colon cancer.

Patricia's greatest joy in life was her family, especially her four grandchildren and two great-grandchildren. She loved all sports and was an avid fan of the Washington Redskins and University of Alabama Crimson Tide, as well as golf. She was very kind and had a big heart. Most would say there was never a person she met who was not her friend.

Patricia was born on December 23, 1952 in Olney, MD to Charlotte May Patterson and Walter James Patterson and raised in Dayton, MD. She moved with her family to Charles County in 1990. Since then she worked for The Jude House, Chester Stevenson Insurance Agency, and the Creelman Insurance Agency. She was adored by her customers of the Creelman Insurance Agency and she adored them as well.

Patricia is survived by her beloved husband of 36 years, Mark Metzger; two daughters, Charlene Jacobs and her husband Thomas and Nicole Hackley; four grandchildren, Ashli Berger, Amanda Jacobs, TJ Jacobs, and Joshua Hackley; two great-grandchildren, Eric Berger and Breanna Berger; one sister, Shirley Kendal; and one brother, Edward Brown.

Friends received on Saturday, January 13, 2018 from 10:00am until time of Memorial Service at 11:00am at Raymond Funeral Chapel, 5635 Washington Avenue, La Plata, MD 20646. In lieu of flowers, memorial contributions in Patricia's name are asked to Hospice of Charles County, 2505 Davis Road, Waldorf, MD 20603. Arrangements by Raymond Funeral Service.