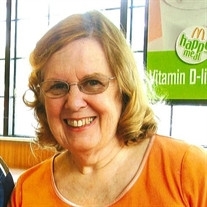 Barbara Jean Peck, 77, of La Plata, MD, died December 27, 2017. She was the daughter of the late Fred Earnshaw and Mary Ann Jones Earnshaw. She is survived by her beloved companion, Steve Schwab; her daughter, Jeanne Butz (William); and her grandson, Alec Butz.

Barbara was a Math Professor for more than 25 years at the College of Southern Maryland and attended Christ Church in La Plata, MD. She loved teaching and was also a private tutor. In her younger years, she was a good seamstress. She was also a member of the Chesapeake Choral Arts Society.

Friends received on Saturday, January 13, 2017 from 1:30pm until time of Memorial Service at 3pm at Raymond Funeral Service Chapel, La Plata, MD. Memorial contributions in Barbara's memory may be sent to the College of Southern Maryland, PO Box 910, La Plata, MD 20646. Arrangements by Raymond Funeral Service.